Hair Calamities and Hot Cash Kick-Off Package
About the Book
Book: Hair Calamities and Hot Cash
Author: Gail Pallotta
Genre: Christian Fiction
Release date: 2018
What happens when a New York stockbroker crashes his car into Eve Castleberry's North Carolina beauty shop … on the same day the young widow's defective hair products are causing wild hairdos? Soon, Eve finds herself helping the handsome stranger hunt the thieves who stole his clients cash…and hot on the trail of two of the FBI's most-wanted criminals!
Romance blossoms amid danger, suspense and Eve's hair-brained plan to get back the money.
Click here to get your copy!
About the Author
Award-winning author Gail Pallotta's a wife, Mom, swimmer and bargain shopper who loves God, beach sunsets and getting together with friends and family. A 2013 Grace Awards finalist, she's a Reader's Favorite 2017 Book Award winner and a TopShelf 2020 Book Awards Finalist. She's published six books, poems, short stories and several hundred articles. Some of her articles appear in anthologies while two are in museums.
Interview with Gail
Welcome to the blog today Gail! Can you describe your writing process?
Sure. I start by plotting and writing out character sketches with a pen and paper. Then I script some scenes putting the characters into the plot. As I do this, the plot changes and the characters grow. I've always used a legal pad for my original plot and characters and switch to the computer to work on the scenes. After I have a skeleton of a book, I begin adding more about the story, the narrative, descriptions and dialogue. A presenter who uses Scrivener recently visited my local ACFW chapter to explain the program, and it sounds neat. Sometime in the future I would like to try it.
When you are not writing, what do you like to do?
I swim three times a week, and often read in the evenings. I like to make flower arrangements, walk on a beach and bargain shopping with my daughter. It's fun to catch up while we try on clothes, check them out and decide if they're flawed or overstock garments. We can spend hours and come out of the store with one purchase each, but we've had lots of fun. Also, I enjoy getting together with my friends and prefer to see them in person. I'm happy I'm able to do more of that now. To me, emails, texts and zoom just aren't the same as sitting down across from someone I care about.
What's your go-to-Bible verse during times of difficulty?
I find Psalms comforting, Psalm 121, especially so in times of difficulty. Two verses often quoted in that passage are verse two: "My help comes from the Lord, the Maker of heaven and earth." And verse eight: "the Lord will watch over your coming and going both now and forevermore." To me that says the Lord takes care of his people.
If we were to peek at your nightstand/coffee table/ counter/kitchen table, what interesting things would we find?
My cell phone, set as an alarm clock, sits on the nightstand three or four nights a week, and I often place a cup of tea there as well as my Kindle or a print book. The coffee table has coasters and three magazines, one of which has an article about my daughter in it. There's an amaryllis given to me at Christmas by a friend on my kitchen counter.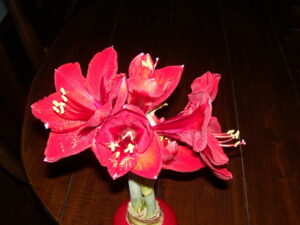 I was so excited when it bloomed. Following the advice on YouTube, I repotted the blub, and to my delight it bloomed a second time. I'm watering it as directed and talking to it, and it appears it will soon have flowers on it again. A basket of napkins and place mats stay on my lazy Susan table, and I keep three Bibles on my desk in my office.
What do you want readers to get from reading this story?
First of all, I'd like for readers to enjoy the romance, humor and mystery. I hope they escape to Triville, North Carolina, for a few hours of fun. The fictitious setting combines the awe-inspiring scenery in Western North Carolina with the caring attitudes of the people in my hometown at the foothills. No matter if someone was a best friend, an acquaintance or a person to avoid, when tragedy struck, they were all God's children, and the residents answered with prayers and casseroles no matter which relationship they shared. I wanted to capture that small town's spirit. With all of the hatred in the news today, I think a caring attitude's even more important now than when I wrote the book.
Blog Stops
Book Reviews From an Avid Reader, June 22
Book Looks by Lisa, June 22
For Him and My Family, June 23
Locks, Hooks and Books, June 24
Because I said so — and other adventures in Parenting, June 25
Texas Book-aholic, June 26
Ashley's Clean Book Reviews, June 27
Inklings and notions, June 28
deb's Book Review, June 29
Truth and Grace Homeschool Academy, June 30
Jodie Wolfe – Stories Where Hope and Quirky Meet, July 1 (Author Interview)
Simple Harvest Reads, July 1 (Guest Review from Donna Cline)
Guild Master, July 2
Debbie's Dusty Deliberations, July 3
A Baker's Perspective, July 4 (Author Interview)
Happily Managing a Household of Boys, July 5
Giveaway
To celebrate her tour, Gail is giving away the grand prize of a $25 Amazon gift card and copy of the book!!
Be sure to comment on the blog stops for nine extra entries into the giveaway! Click the link below to enter.
https://promosimple.com/ps/1f459/hair-calamities-and-hot-cash-celebration-tour-giveaway