Welcome to the Blog + Review Tour for Finding Her Amish Home by Pamela Desmond Wright, hosted by JustRead Publicity Tours! Today I've got an excerpt of the book (which I think will really draw you in!), and an awesome giveaway with not one winner, but 3!!! How amazing is that 🙂
** Affiliate links used **

About the Book
Finding Her Amish Home
Author
Pamela Desmond Wright
Published by
Harlequin
on June 28, 2022
Genres:
Fiction / Amish & Mennonite
,
Fiction / Christian / Romance / General
,
Fiction / Romance / Clean & Wholesome
,
Fiction / Romance / Contemporary
Pages:
224
What she wants more than anything
Could also be the most dangerous…

After her twin sister's death, Maddie Baum flees to Wisconsin Amish country with her nephew in tow in the hopes of protecting him from his criminal father. Befriending Amish shopkeeper Abram Mueller gives her a glimpse of the happiness she's been yearning for all along. Can she find a fresh start with Abram—or will old sins tear them apart?

From Love Inspired: Uplifting stories of faith, forgiveness and hope.
Amazon
|
Barnes and Noble
|
Bookbub
|
ChristianBook.com
|
Goodreads
Excerpt
Abram Mueller wasn't the sort to take a second look at a woman. Still, something about Maddie Baum made him pause. Her image hovered at the forefront of his mind, refusing to be banished.
Intuition tapped him on the shoulder.
Turn around.
The fine hairs at the nape of his neck rose. The first thing he'd been taught as a child was to never ignore the still, small voice. As a man firmly committed to his faith, the one thing he never doubted was that Gott moved in mysterious ways.
His servants were obligated to obey.
"What are You telling me, Lord?"
Pivoting on his heel, he searched for and found Maddie and her son as they headed to the checkout stand.
With her blonde hair neatly plaited and pinned, her simple gray dress, light sweater and black flats weren't anything a fashionable Englisch woman would wear. Add a white kapp and apron and she would look like any proper Amish woman.
Knowing she was from Pennsylvania and that she spoke the Deitsch language led him to guess she was formerly a member of the community or at least closely associated through familie ties. Hard to tell if she was married or not. Amish women didn't wear wedding rings.
Abram watched as she casually dipped a hand into her purse and then stopped dead. Her head dropped as she dug frantically, obviously seeking something she couldn't locate. A moment later, she abandoned her basket and headed for the exit.
It didn't take a rocket scientist to interpret the scene.
Empty purse. No money.
About the Author
Pamela Desmond Wright grew up in a small, dusty Texas town. Like the Amish, Pamela is a fan of the simple life. Her childhood includes memories of the olden days; old-fashioned oil lamps, cooking over an authentic wood-burning stove and making popcorn over a crackling fire at her grandparent's cabin. She also loves needlepoint and has dozens of projects to work on! Someday, she hopes to move into van life, living on the road as a traveling writer.
CONNECT WITH PAMELA: Website | Facebook | Instagram | Twitter
Giveaway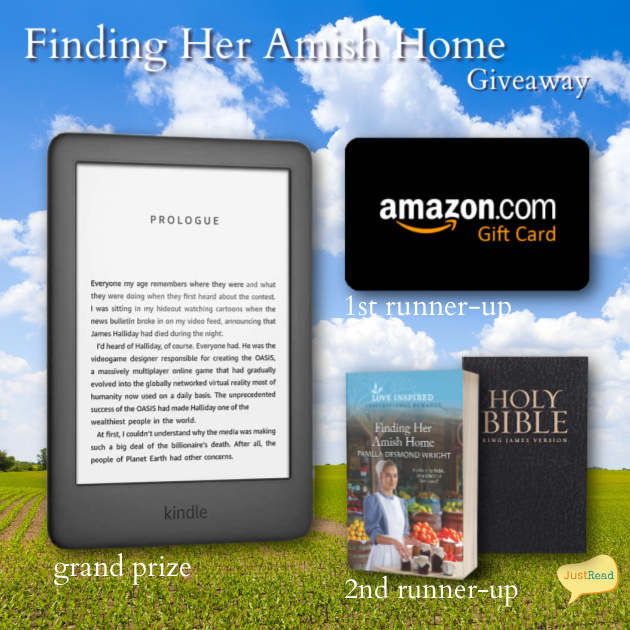 Main Prize – (1) winner will receive a Kindle eReader
1st runner-up – (1) winner will receive a $25 Amazon gift card
2nd runner-up – (1) winner will receive a signed print copy of Finding her Amish Home and a King James version of the Bible
Be sure to check out each stop on the tour for more chances to win. Full tour schedule linked below. Giveaway began at midnight July 12, 2022 and lasts through 11:59 PM EST on July 19, 2022. US only. Items may vary from image. Winner will be notified within 2 weeks of close of the giveaway and given 48 hours to respond or risk forfeiture of prize. Void where prohibited by law or logistics.
Giveaway is subject to the policies found here.
Follow along at JustRead Tours for a full list of stops!