Welcome to the Blog + Review Tour for Hidden Danger by Jerusha Agen, hosted by JustRead Publicity Tours! Let's face it, winter is on it's way. I have already seen snowflakes more than once where I live in Central NY, so might as well get some cozy, wintery books to read to get me in the winter spirit. And who doesn't love K9 stories!?
** affiliate links used **
About the Book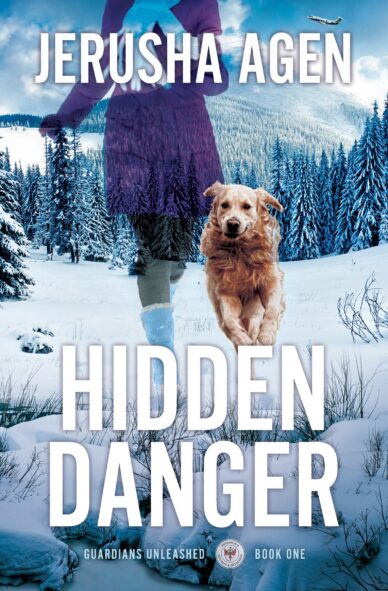 Hidden Danger
Author
Jerusha Agen
on November 8, 2021
Genres:
Fiction / Action & Adventure
,
Fiction / Animals
,
Fiction / Christian / Romance / Suspense
,
Fiction / Christian / Suspense
,
Fiction / Romance / Action & Adventure
,
Fiction / Romance / Suspense
,
Fiction / Thrillers / Crime
,
Fiction / Thrillers / General
,
Fiction / Thrillers / Suspense
Pages:
398
The greatest threat to this K-9 team is the one they don't see coming.

Cora Isaksson's guilt has shadowed her life ever since drugs ensnared her brother and he disappeared. When Bradley suddenly returns, Cora and her narcotics detection K-9 are thrust into a battle against the drug cartel that wants him back.

DEA Special Agent Kent Thomson has his own personal reasons for bringing justice to the cartel. Cora and her drug-sniffing K-9 will only get in his way. Or are they assets that will enable him to right the wrongs of the past?

When the cartel targets Cora, she and Kent join forces with her teammates at the Phoenix K-9 Security and Detection Agency to end the cartel before it ends her. They're prepared for danger, but when more lives than their own hang in the balance, can they trust God for the rescue that's out of their reach?

Hidden Danger continues the thrilling story of the elite Phoenix K-9 Security and Protection Agency that began with prequel Rising Danger. (Each book can stand alone or be read as series installments.)

Praise for Jerusha Agen:

"Fast-paced, explosive thriller. I couldn't turn the pages fast enough."

– Carrie Stuart Parks, award-winning, bestselling author of Relative Silence

"… grabbed me from the first chapter and never let go. Don't miss this edge-of-your-seat story of suspense and romance." – Patricia Bradley, award-winning author of the Logan Point and Memphis Cold Case series
Amazon
|
Barnes and Noble
|
Bookbub
|
ChristianBook.com
|
Goodreads
My Perspective
This was a fun read. Agen had my attention right from the very first chapter which was full of intensity. I enjoyed the way she incorporated the K9 into the story as a drug sniffing dog. It's so prevalent, unfortunately, in our world today and I liked seeing it in a story. Especially the scenes at the high school. Agen brings to light something that our nation is truly dealing with, and just how dangerous it can be. She reminds readers that it is in the schools across the country, as much as we'd like to say it's not. It's sad really, and I wonder how many schools have dog visits like this.
Aside from that, the mystery behind the drug scene did keep you on your toes. I had my suspicions about how it would all turn out, and I was right for the most part. At times I did find Cora to be a bit naive, and almost go along with things because she just knew that God would take care of her. And while I'm not doubting that to be true at all, because He can and will take care of us, it almost seemed like an excuse for her to be almost wreckless. But this was simply who she was, and just my opinion. 🙂
The faith thread was very strong, as you can imagine from my previous statement. I like that Agen doesn't shy away from sharing the gospel in her books. Especially when in settings such as this, it can be difficult to weave it into the storyline. I know there were things I needed to hear within the pages of this book, and I imagine the same is true for other readers as well.
All in all, this was a great, quick read that I can see myself reading again down the road. I received a complimentary copy of this book. I was not required to write a favorable review. All thoughts and opinions are my own.
About the Author
Jerusha Agen imagines danger around every corner but knows God is there, too. So naturally, she writes suspense infused with the hope of salvation in Jesus Christ. With a B.A. in English and a background in screenwriting, Jerusha is a speaker, writing instructor, and Fear Warrior who sounds the call to battle against fear in our everyday lives. Jerusha loves to hang out with her big furry dogs and little furry cats. You'll often find her sharing irresistibly adorable photos of them in her newsletter and on social media. Get a free suspense story from Jerusha and find more of her thrilling, fear-fighting novels at www.JerushaAgen.com.
CONNECT WITH JERUSHA: Website | Facebook | Twitter | Instagram
Giveaway
ENTER GIVEAWAY HERE
Do you like to read books with dogs or other animals in them? What are some of your favorites?