Welcome to the Celebrate Lit Tour for Copenhagen Cozenage by Kristen Joy Wilks! I'm thrilled to have Kristen here today chatting with me about writing, her book and more!
** Affiliate links used **

About the Book
Copenhagen Cozenage
Author
Kristen Joy Wilks
Published by
Pelican Ventures Book Group
on September 25, 2015
Genres:
Fiction / Christian / General
Pages:
146
Morgan Ravn arrives in Denmark seeking clues about her mysterious heritage. What she finds is a flirtatious stranger who regales her with a story about a jewel thief from 1958 and then abandons her with a large unruly dog. Can Morgan locate the irresponsible pet owner before his monstrous canine drags her through every puddle in Copenhagen and sheds all over her last dress? And why are strangers dogging her every step, snapping photos? Is the shutter happy behavior a bizarre Danish custom or something more sinister?
Amazon
Interview with Kristen
Can you describe your writing process?
Well, my writing process has changed a lot over the last twenty-one years, ha! When I first started, I was a seat-of-the-pants writer. I typed out wild scenes in a vaguely start to finish order and did tons of research in between that totally changed the story as I went.
Now, I've found an outlining process that works well for me. I write a two-sentence story question that sums up the the main plot. Then I pick a personality type for each character, making sure that they will clash admirably. I answer some questions about their motivations and past pain using ideas from Susie May Warren's writing books. Then I do a six-point outline using Larry Brooks' book Story Engineering. Then I expand that to an eight-point outline using Alexandra Sokoloff's book Steeling Hollywood: Screenwriting Tricks for Authors. Then I grow that into a fifteen-point outline using Blake Snyder's book Save the Cat. Finally, I put that outline into a chapter outline form that has a scene (or goal, conflict, disaster,) and a sequel (or character reaction to events) for each chapter. Things may not end up this tidy once I start writing, but this at least gives me a good place to start. Often, I end up adding strange chapters that I never expected smack in the middle of all this organization, ha! Then I do a fast rough draft in about a month. I don't look back. I just write wildly until I am finished. Then I set the rough draft aside and work on a different writing project. Once I've finished an edit of the other project, I pull out my fresh new story and start editing. I jump back and forth between projects, allowing one to settle while I work on the other and so on. After about four to seven sets of edits, I'm usually ready to submit. And there it is! This process usually takes about a year, although, because I bounce between projects, I have at least two manuscripts done after that year has run its course.
Do you have any interesting/fun/comical research stories to share?
Well, it wasn't research at the time, but absolutely sparked several scenes in this book. So, when our large male Newfoundland (Shamu) was about a year old, he weighed over 100lbs. He was a young dog, rowdy and strong and just getting comfortable with his obedience lessons. Later, he would become a gentle giant. At this time, he was simply a giant! He LOVED water and we were out on a walk and Shamu caught sight of the Columbia River in the distance. My husband was holding the leash and not really paying attention. Shamu charged. He galloped toward the river with incredible speed and power. He hit the end of the leash hard. So hard, that before my very eyes, my big husband was literally yanked off his feet and hovered in the air for a moment. I thought things like this only happened in cartoons! Well, my husband only hovered for a moment before slamming straight down on his face into the grass. But Shamu was still charging and so my husband was then yanked across the grass, bouncing along with one hand stuck in the leash as our big dog made a break for the water. Well, clearly something like this belongs in a book!
What's your go-to Bible verse during times of difficulty?
I actually used one of my favorites during the main character's dark night of the soul in this book.
Isaiah 50:10b—
"Let the one who walks in the dark,
who has no light,
trust in the name of the Lord
and rely on their God."
The surrounding verses talk about God's stern reaction to those who try to light their own torches when all is dark instead of trusting Him. There are such dark, dark times in this world. It is really tempting to light a torch and try to make sense of our path. But if we have chosen to belong to God, to have Jesus as our Lord and King, then He is the one we trust. We grip Him tight and walk into the dark without that torch, because He is the one we have chosen to walk with and trust.
If we were to peek in at your house, what interesting things would we find?
Ha! OK, so I have something interesting you might have found a couple of weeks ago. We live at a remote Bible camp in the Cascade Mountains. There are all sorts of critters around and when we were taking Princess Leia Freyja (our current Newfoundland dog) for a walk she made an amazing discovery. A discovery that she carried home with her. An elk leg! It was fresh and not really what I wanted in the house. She kept trying to sneak it inside until tragedy occurred. Some creature sneaked up to the house and grabbed her precious elk leg and ran off with it in the night! I was happy to see it go, although Leia was heartbroken and had to enjoy a dog chew instead.
Oh my goodness that is funny! What do you want readers to get from this story?
I want them to enjoy all the awkward fun of a RomCom. Because really, isn't real life and real love awkward and messy and just not what you expected? I want them to be delighted by the snugly escapades of a large and rowdy dog. To walk an adventurous path with poor Morgan as she is thrust into events that baffle the mind. Solve the mystery, save the day, and walk away just a little bit closer to God at the end. This is a funny book. That doesn't mean it is a shallow one. Every book, funny or not, must travel a dark path at some point. When poor Morgan is in that dark place, I give her some of the verses and moments with God that I experienced in my own moments of hurt and fear. Life is like that, with the hilarious and the heartache all mixed up together. And yes, I want my readers to laugh! Laughter has been a balm to my soul during many times of grieving. God gives us funny moments. Yes, we face pain, so much pain, but isn't it like Him to allow you to see your husband get his eyebrows burned off when he lights the oven (don't worry, he wasn't hurt) or to have your son ask you to pray for a bug that "God would give him five more legs" at bedtime. The darkness will come and we must press through it, but the gifts of humor that God allows give us healing along the way. I want this for each and every one of my readers.
It's time to plan a fun girls' weekend and you can only invite authors. Who would you invite?
Oooooh! Well, I think that for such a weekend I would want to invite RomCom authors! So, I pick Bethany Turner, Melissa Ferguson, Angela Ruth Strong, and Anne Garboczi Evans!
Now that sounds like an amazing weekend!! Can I come 🙂
Thank you so much for chatting with me today!!
About the Author
Kristen Joy Wilks lives in the beautiful woods of the Cascade mountains with her camp director husband, three fierce sons, and a large and slobbery Newfoundland dog. She spent her misguided youth falling in love with Commander Spock via Star Trek reruns, being suspended upside down over a homemade pit filled with gardener snakes, and stampeding herds of elk while on horseback. Now most of her adventures consist of preventing her hubby from filling another wall of their dining room with board games, thwarting her 3 boys' efforts to sneak their pet chickens onto their bunk beds whenever she turns her back to fold laundry, and trying not to trip over the random teenagers that swarm her house to play all those board games.
Blog Stops
Library Lady's Kid Lit, April 16(Author Interview)
Debbie's Dusty Deliberations, April 16
Texas Book-aholic, April 17
Inklings and notions, April 18
For Him and My Family, April 19
Gina Holder, Author and Blogger, April 20 (Author Interview)
deb's Book Review, April 21
A Baker's Perspective, April 22 (Author Interview)
Artistic Nobody, April 23 (Spotlight)
Guild Master, April 24
Because I said so — and other adventures in Parenting, April 25
Simple Harvest Reads, April 26 (Author Interview)
Happily Managing a Household of Boys, April 26
Truth and Grace Homeschool Academy, April 27
Splashes of Joy, April 28 (Author Interview)
Locks, Hooks and Books, April 28
Ashley's Clean Book Reviews, April 29
Giveaway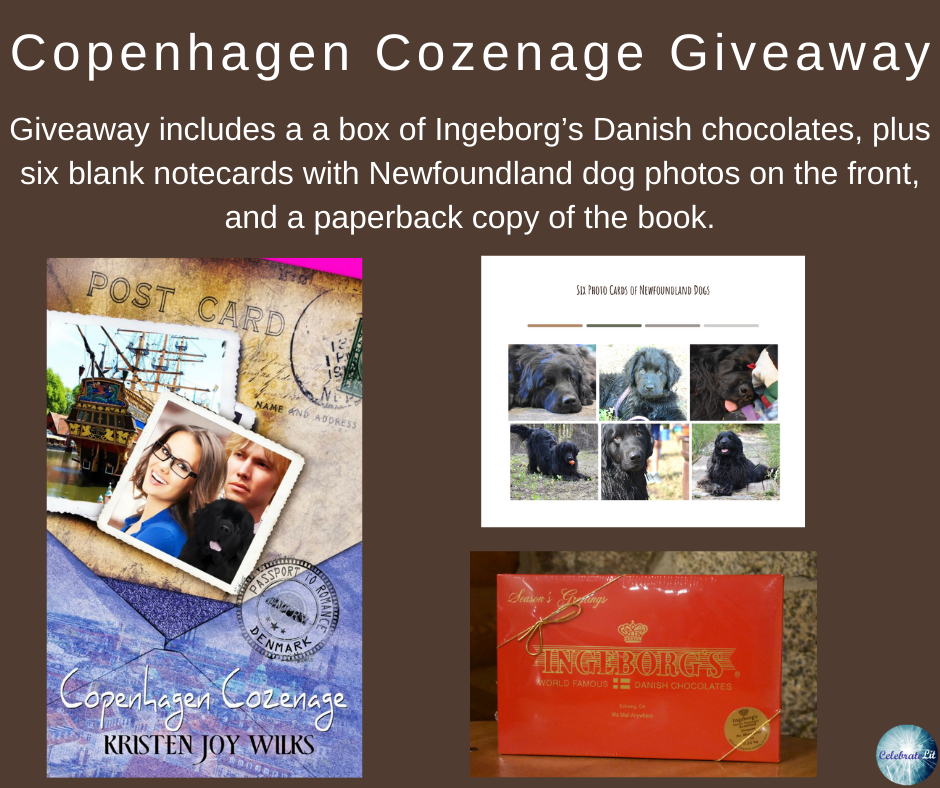 To celebrate her tour, Kristen is giving away the grand prize package of a box of Ingeborg's Danish chocolates, plus six blank notecards with Newfoundland dog photos on the front, and a paperback copy of the book!!
Be sure to comment on the blog stops for nine extra entries into the giveaway! Click the link below to enter.
https://promosimple.com/ps/1cc81/copenhagen-cozenage-celebration-tour-giveaway