When July 4th rolls around, I often think to how our country started. What it stood for, what freedoms we have now compared to back then, and how difficult it must have been to stand up for those freedoms. I wished they taught more in school – or at least somehow connected it to a story so that I would have been interested in it more. When the opportunity came about to read a book about people to stood up for what they believed in historic times, I was elated. You can learn a lot when reading fiction books believe it or not! And they make you want to do some of your own research.
About the Book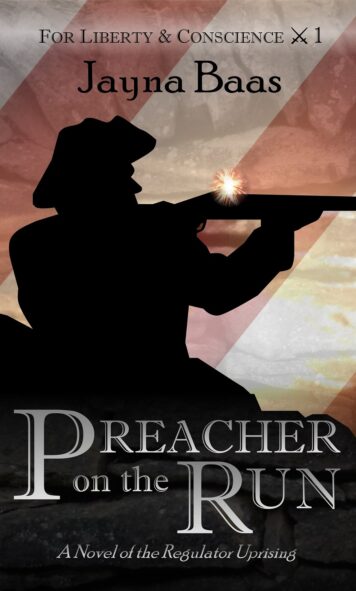 Preacher on the Run
Series:
For Liberty & Conscience #1
Genres:
Fiction / Christian / Historical
Pages:
326
STANDING FOR TRUTH COULD COST HIM HIS FREEDOM.

FIGHTING FOR FREEDOM COULD COST HIM HIS LIFE.

It's 1771, and North Carolina is at war. On one side stands established religion and the power of the Crown. On the other side stands a dangerous freedom of conscience.

Robert Boothe has spent the last four years leading the tyrant-hating Regulators against North Carolina's corrupt British government. All he wants is a safe place for his little Baptist church to live and worship God.

But choosing sides has made Robert a target. The Church of England wants him to shut up. The governor wants him dead.
Amazon
|
Bookbub
|
Goodreads
My Perspective
Baas writes a novel that makes me want to run for my history books and dive deeper into the lives on her characters. Deeper into the history of our nation. Her extensive research was evident from start to finish on The Preachers on the Run. As was the biblical application to the storyline. She chose all the right verses for just the right moments, and in a way that I felt was probably common for that time period.
I think history buffs will really enjoy this story. The way Baas writes Boothe's journey almost feels like a history lesson, or a biography of sorts. I will say, those readers who are looking for a fast moving plot line, romance, or more, this may not be the book for you. It was very interesting to read for me, but I feel like it is written more for those looking for a history lesson, or a walk back in time. Perfect while getting ready to celebrate the 4th!
All in all, I think Baas did a great job in representing the time period accurately, giving Boothe a great message, and teaching me a thing or two. For all you history fans out there – I recommend adding this to your reading list.
I received a complimentary copy of this book. I was not required to write a favorable review. All thoughts and opinions are my own.
About the Author
Jayna Baas, pronounced as in "baa, baa, black sheep," is the author of Preacher on the Run and a member of American Christian Fiction Writers and The Christian PEN: Proofreaders and Editors Network. She lives in northern Michigan with a great family of real people and the family of pretend people who live in her head. (Yes, she does know her characters are not real. No, she does not want you to tell them she said so.) Although she enjoys multiple genres, her favorite story is this: "For God so loved the world, that he gave his only begotten Son, that whosoever believeth in him should not perish, but have everlasting life" (John 3:16). Learn more and sign up for an exclusive short story at www.booksbyjayna.com.
Author website: https://www.booksbyjayna.com/
Goodreads author page: https://www.goodreads.com/booksbyjayna
BookBub author page: https://www.bookbub.com/authors/jayna-baas
Amazon author page: https://www.amazon.com/-/e/B0872HCZ2V
Newsletter signup: https://www.subscribepage.com/booksbyjayna