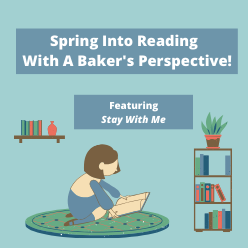 Hello reader friends! Welcome to my Spring Into Reading Event! Every day this month I'm going to feature a new release (or will be released) book for you to add to your TBR. There will be guest posts, giveaways, book excerpts, and more! So make sure you come back daily and see what book is in the spotlight next!
Eeep! Today I get to share with you an excerpt from Becky Wade's Stay With Me. Releasing on May 5th, this is a book that should be on everyone's TBR list! I mean, she is the queen of Christian Romance books after all 😉
Becky has graciously offered to give away a copy of book #1 in her Bradford Sisters Romance series, True to You! Let me just say that this series was amazing – so if you haven't read it, here's your chance. Enter the giveaway at the bottom of this post!
ABOUT THE BOOK
A mysterious letter alluding to a secret in her parents' past brings Genevieve Woodward back to her Blue Ridge Mountains hometown, but she's also in need of a break from a high-profile career that has left her dangerously burned out and concealing a powerful secret of her own. When she wakes inside an unfamiliar cottage to find the confused owner staring down at her, she can no longer ignore the fact that she needs help.
Sam Turner has embraced his sorrow and his identity as an outsider. The solitary, disciplined life he lives on his historic farm is the life he's chosen for himself. The last thing he wants is to rent his cottage to a woman as troubled as she is talkative. Yet, he can't force himself to turn her away right when she needs him most.
As Genevieve researches her family's history and her and Sam's emotions deepen, they will have to let go of the facades and loneliness they've clung to and allow light to illuminate every hidden truth.
Again, I'll remind you that Baker Book House is having a sale right now. Wink, wink. Highly recommend supporting them to preorder this book! Just double check pricing when you order to ensure sale is still happening.
Excerpt from Stay With Me
Chapter One
Like Papa Bear in the Goldilocks story, Sam Turner had discovered a strange woman sleeping in the bed of a house he owned.
He stood inside Sugar Maple Farm's small guesthouse, hands on his hips, staring down at her as mid-August sunlight flooded the space through the uncovered windows. Neither the sunlight nor the sound of his entrance just now had woken her.
Was she dead?
A bolt of worry pierced him hard, so he leaned over to make sure he could see the rise and fall of her breathing. He could.
Good. Interruptions to his routine and his solitude weren't part of his plans any day of the week. Discovering a dead woman definitely hadn't been part of this particular Monday morning's plans.
What he had here was a trespasser, very much alive, who'd decided to help herself to his guesthouse.
She'd stretched out on the only piece of furniture in the place: a bed. Back when he'd moved onto this property four years ago, he'd taken this metal headboard and frame out of the main house and stored it here. More recently, he'd added the mattress and box spring set he'd received as a hand-me-down from his dad.
This stranger didn't seem to mind that the mattress was bare. Or that the guesthouse offered nothing but old pine floors and a cold fireplace.
She'd made do by cracking open her suitcase and tossing every item of clothing onto the bed to function as her sheet. She'd covered her bottom half with a black jacket and slipped her top half into a pink robe. Except she'd turned the robe the wrong way, so that the robe's back covered her front.
Her head rested on a light blue pillow, chin tipped to the side in a way that revealed a pretty profile. The smoothness of her expression communicated deep, worriless dreams. Due to his responsibilities and regrets, Sam couldn't remember sleeping that soundly since he was a kid.
She had prominent cheekbones, a delicate nose, a perfectly shaped mouth. Her hair started out a medium brown color near her scalp then magically, through some kind of dye job he couldn't imagine, started to turn different, lighter blond colors toward the ends. Her hair was big, but she was small. When she stood, he'd bet that hair would fall almost to her waist.
She wore makeup on her flawless skin. Large silver earrings. A ring with three interlocking silver bands, each band set with diamonds.
Had she come straight from a photo shoot to break and enter his guesthouse?
"Hello," he said.
No response.
One of his eyebrows twitched with irritation. "Excuse me," he tried, slightly louder. He didn't want to terrify her by raising his voice or by shaking her shoulder. "Hello?"
Nothing.
"Good morning. Miss?"
Not even an eyelid flickered. Most likely, she'd taken too much of some kind of substance. Sleeping pills, alcohol, drugs?
Sam picked up the huge purse that slumped on the floor beside a pair of tall leather boots. As far as he was concerned, she'd forfeited her right to privacy as soon as she'd become a squatter on his property. Grimly, he squashed a flash of conscience and rummaged past car keys, sunnies, a zippered case, feminine products, and a cell phone before pulling free her wallet. Within it, he found the usual credit and debit cards, then the thing he'd been looking for—her driver's license.
It read Genevieve Woodward next to a picture of her smiling brightly. She'd been born three years after him, which made her thirty. Her height was listed as 5′4″ and her weight as 125. Eye color: hazel. Address: Nashville. Which meant, here in the north Georgia mountains, that she was more than a four-hour drive from home.
The last name Woodward stirred his recognition. Judson Woodward served as their county's district attorney. Sam had talked with him and his wife, Caroline, a couple of times. They had two adult daughters. Was this one of their daughters? If so, why would she have slept at his farm when her parents' house in town was only fifteen minutes away?
He carried her car keys into the cool morning and unlocked her Volvo XC-40. The compact SUV's interior smelled like the beach, crisp and fresh. He lifted items—a pink sweater, a laptop—as he searched for the substance she'd likely taken last night. A Starbucks travel mug filled one cup holder, hair bands and a lip gloss the other. In the back seat, a bag full of books and notebooks rested on the floor.
No liquor bottles. No drug paraphernalia.
Even so, his instincts were telling him that something was off.
He made a scoffing sound. He didn't need Sherlock's instincts to know something was off. Any ten-year-old kid would know that sleeping on a bare mattress in a stranger's empty house wasn't what sober women did.
He strode back inside. Genevieve hadn't moved.
As he returned her keys to her purse, his attention landed on a metallic silver tin tucked in a side pocket. He pulled it free. Around the size of a box of Altoids, a cursive G engraved its top. He flicked the case open. Inside rested at least forty pills.
The pills were round and brown. Some marked with OP, others with 20.
OxyContin.
He frowned as old memories slithered into his mind. Terrible memories that made his body brace and his stomach tighten with grief.
Grief and regret were never far from him.
They walked beside him every day. Laid down with him at night. Waited for chances to punch him in the gut and remind him of his failures.
For seven years, they'd been his two closest companions.
Oxy required a prescription. Either Genevieve had gotten these legally and was taking them for justified medical reasons. Or . . . not. Given where he'd found her, he was leaning toward the latter.
He returned the metal tin to her purse and moved to stand at her bedside.
Oxy. A fashionable suitcase. Successful father. New car. China doll face. A pillow that traveled with her so that she didn't have to lay her precious head on anyone else's pillow.
Genevieve Woodward was messy in ways that had nothing to do with organization, and Sam didn't do mess.
He wanted nothing to do with her. In fact, he wanted her far away from him as fast as possible.
"Genevieve," he said.
She didn't stir.
"Genevieve."
ABOUT THE AUTHOR
Becky is the Carol and Christy award winning author of heartwarming, humorous, and swoon-worthy contemporary inspirational romances.
She loves to connect with readers via her web site, www.beckywade.com, and via her Facebook author page.
During her childhood in California, Becky frequently produced homemade plays starring her sisters, friends, and cousins. These plays almost always featured a heroine, a prince, and a love story with a happy ending. She's been a fan of all things romantic ever since.
These days, you'll find Becky in Dallas, Texas failing to keep up with her housework, trying her best in yoga class, carting her three kids around town, watching TV with her Cavalier spaniel on her lap, hunched over her computer writing, or eating chocolate.
GIVEAWAY
a Rafflecopter giveaway
What did you think of the excerpt?? Don't forget to stop back every day this month for more great reads!