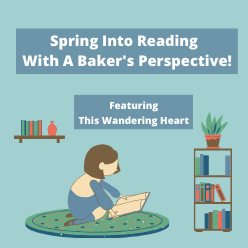 Hello reader friends! Welcome to my Spring Into Reading Event! It's May, and the event is still happening! So, with no end in sight, let the party continue. Just kidding – this will come to an end soon. But for now, I'm going to feature a new release (or will be released) book for you to add to your TBR everyday. There will be guest posts, giveaways, book excerpts, and more! So make sure you come back daily and see what book is in the spotlight next! And if you've missed any, be sure to click on the "Spring Into Reading" tab and look at the other posts!
Today I'm excited to share with you my thoughts on This Wandering Heart, by Janine Rosche. It may be her debut novel, but I feel like I've been reading her books forever. It still amazes me how talented authors are, even early in their career. If you haven't "met" Janine online, well I highly encourage you to. She is hilarious! I love her posts, her thoughts, and her quirky sayings. They are always sure to make me smile. 🙂
ABOUT THE BOOK
In the first entry in the Madison River Romance series, Keira Knudsen gets the traveling opportunity of a lifetime, but when she reunites with her first love, Robbie, she learns that even a wandering heart needs a home….
No one in the quaint town of West Yellowstone, Montana knows that unassuming geography teacher Keira Knudsen moonlights as sensational travel blogger Kat Wanderfull. No one, that is, except for her first love, Robbie Matthews, who has just discovered the woman he is falling for online is the same one that broke his heart five years ago.
But Robbie has another problem: the mother of his daughter, Anabelle, has resurfaced after a three-year absence determined to rip Anabelle away from him. Robbie needs a steady paycheck for a chance at custody, and now, on the eve of a grand adventure that could give Keira a chance to flee her old, troubled life once and for all, she is in need of assistance.
With so much broken trust between them, Keira and Robbie must keep an arms-length away to make this partnership work. But the more time they spend together, exploring majestic places and sharing new experiences, the closer they get–until their secrets and dreams threaten to cost them everything.
Purchase at Amazon
MY PERSPECTIVE
The first thought I had upon finishing this book was that I needed to travel more. I needed to find the Kat Wanderfull in me, grab a camera, and just see some beautiful places. If you have the travel bug in you, I promise you that this read will enhance it. Kat travels to some pretty cool places. But here's the thing – ultimately Kat Wanderfull needs to learn what is important. Your location, or the people that surround you. And really, that is what this story is all about.
Rosche had me right from the start of the story, engrossed in the lives of Keira and Robbie. This is second chance love at its finest people. As the story moves along, you get little snippets of the background of Keira and Robbie's past, and how their past has defined their present. But isn't the lesson to be learned that we don't always need to allow our pasts to define our present? Isn't their room for growth, forgiveness and second chances? Watching Keira and Robbie come to these conclusions was fabulous. They had easy chemistry, but it wasn't an immediate relationship. Rosche made sure to take her time a little with their story – which allowed for the character growth in Keira that was truly needed before reaching the satisfactory end.
I would be remiss if I didn't mention two secondary characters that surprised me in big ways. I'm always a sucker for a kid in a story. Not sure why, just am. But Anabelle? That sweet little girl was a scene stealer for sure! What really got me was her quick bond with Keira. It was so sweet, and so innocent, and I really was rooting for them to be a family more than I was Keira and Robbie! Don't judge 😉
But what came as an even bigger surprise, was Anabelle's mother. Now I can't really give too much away. But let's just say that her character changes in a BIG way in this book. In fact, I was expecting it at all, and yes Rosche just goes and put it in there. I actually liked it so much that I almost wish it was it's own story – because that kind of transformation couldn't have come lightly or quickly. Who knew I would feel so strongly about a character who wasn't even in the book that much!?And that's all I am going to say about that.
Here's the deal – Rosche has written a fantastic romance here folks. I'm talking wish it was made into a Hallmark movie fantastic. The characters are charming, the story line is captivating, and the overall story will just make you smile. Yes, there's a few tough topics that Rosche brings up, however she brings them with grace and subtlety. If contemporary romance is your thing, then I highly encourage you to grab a copy of this book and start reading. Then be sure to look for the next installment when it comes out!
I received a complimentary copy of this book. I was not required to write a favorable review. All thoughts and opinions are my own.
ABOUT THE AUTHOR
Prone to wander, Janine Rosche finds as much comfort on the open road as she does at home. This longing to chase adventure, behold splendor, and experience redemption is woven into each of her rustic romance novels in the Madison River Romance series. When she isn't writing or traveling, she teaches family life education courses to college students, takes too many pictures of her sleeping dogs, and embarrasses her four children and husband with boy band serenades.
Connect with Janine:
Website / Facebook / Instagram / Twitter
Do you follow Janine on social media? What do you love about her posts?