Welcome to the Blog + Review Tour for Sticks and Stone by David James Warren, hosted by JustRead Publicity Tours! I'm so excited to share a peek into the book with you today. 🙂
About the Book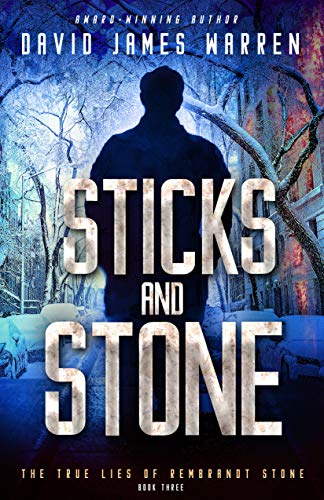 Sticks and Stone
Author
David James Warren
Published by
Tristone Media Group
on 2021-06
Pages:
216
Third Time's The Charm ... Or Not

Rembrandt Stone has only made things worse. This time, upon his return, he discovers his closest friendship is up in flames. Andrew Burke's new scars reflect the havoc Rembrandt has left on his own timeline and he must go back-one last trip into the past. This time he'll save Burke, fix his life and track down a serial killer who possess an uncanny ability to evade him through time.

When Rembrandt lands in the past and two children disappear into an epic Minneapolis blizzard, he's in a race with time to save the children, his partner, and create a future he can live with.

Sticks and Stone-the third book in the gripping True Lies of Rembrandt Stone series-starts sprinting on page one and doesn't slow down till the final words.

Hold onto your head...and your heart.

The continuing adventures of Rembrandt Stone from the creative minds of James L. Rubart, Susan May Warren and newcomer David Curtis Warren, writing as DAVID JAMES WARREN.
Amazon
|
Barnes and Noble
|
Bookbub
|
ChristianBook.com
|
Goodreads
Books in the Series:
CONNECT WITH REMBRANDT STONE: Website | Instagram
Excerpt
I suck in a breath of frigid air and every bone in my body seiz­es. I'm just blinking into the world of my past, something I'm still not quite used to, and the cold is a rude concierge.
Minnesotans never really forget the cold. The way it turns your teeth brittle, smarts your nose, digs into your pores like icy blades. I'm not being dramatic—a freezing wind from the plains of Canada, sweeping into your face can turn a knife inside your cavities.
It's something we learn to live with in exchange for the glori­ous Minnesota summers. And at the dawn of June, the last—very last—thing on our minds is the brutal cold of winter.
I'm wearing my wool trench coat and as my surroundings fo­cus, tighten, I realize I'm standing in the street. In front of me is an old burnt red Chevy caravan. Glass from the driver's side window splatters the cold pavement, and inside a woman is slumped over, her body still belted in.
She's been shot in the head, given the blood and tissue debris on the interior.
Fadima Mahad, age twenty-eight. She's dressed in a jilbab, her body covered from neck to toe. Her head scarf has been torn away, and I already mentioned the head shot, but I also see a knuckle bruise on the side of her face.
The first time around, the idea of someone stopping poor Fad­ima and her children—there are two of them, ages eight and ten— hitting her, then shooting her in the head turned a dial inside me.
I couldn't wait to get my hands on the assailant.
Now, seeing it again, my anger is ready to boil over because whoever did this will also cause the deaths of her children.
And I have kids on the brain these days.
Murmurs lift around me, and I recognize voices.
No, I recognize Eve's voice.
She's talking with Silas, about what shots to take, but her voice is so different from the one I just heard on the phone…
This one contains a sense of vibrancy, the hope not yet stripped out. Or maybe I'm just imagining it. Maybe I just want her, now, to still believe in us.
No. Stop, because I came with the intent of not changing any­thing. Not reaching back to save us. It's just that I'm like a dog to a squirrel when I see what I want.
Overhead, the sky is dour, gray, and a brutal wind lifts my col­lar, chafing my skin. Across the street, a dog barks behind a chain link fence. I turn back to the car and peer in.
The Standish area of Minneapolis is a quaint, well-kept neigh­borhood with small bungalows from the 1930s, many of them re­modeled, with alleyways and sidewalks and enclosed front porches. Children walked to the nearby Bancroft Elementary school, armed with backpacks, winter coats, scarves and mittens.
They walk like Minnesotans— fighting the wind off their face, their chins tucked into the collars of their jackets, their shoulders hunched over. A couple kids glance at me as police officers scoot them around the crime scene.
I nod at them. Give them a look that says it'll be okay. That this sort of thing doesn't happen in their neighborhood, and I'll find the perpetrator.
"It's a through and through, so I'm guessing the bullet is still in the car." Eve comes up to me wearing a puffy winter jacket, a stocking cap with a pompom, and blowing on her purple, crime-scene gloved hands. Her auburn hair pokes out of the back of the white cap, her hazel green eyes just skimming over me before she looks back at the car.
She seems distant, even though we're standing inches apart.
Copyright: TriStone Media Group
About the Authors

James L. Rubart is 28 years old, but lives trapped inside an older man's body. He's the best-selling, Christy Hall of Fame author of ten novels and loves to send readers on mind-bending journeys they'll remember months after they finish one of his stories. He's dad to the two most outstanding sons on the planet and lives with his amazing wife on a small lake in eastern Washington. More at http://jameslrubart.com/
CONNECT WITH JAMES: Website | Facebook | Instagram | Twitter
Susan May Warren is the USA Today bestselling, Christy and RITA award–winning author of more than eighty novels whose compelling plots and unforgettable characters have won acclaim with readers and reviewers alike. The mother of four grown children, and married to her real-life hero for over 30 years, she loves traveling and telling stories about life, adventure, and faith.
For exciting updates on her new releases, previous books, and more, visit her website at www.susanmaywarren.com.
CONNECT WITH SUSAN: Website | Facebook | Instagram | Twitter
David Curtis Warren is making his literary debut in these novels, and he's never been more excited. He looks forward to creating more riveting stories with Susie and Jim, as well as on his own. He's grateful for his co-writers, family, and faith, buoying him during the pandemic of 2020, and this writing and publishing process.
CONNECT WITH DAVID: Instagram
Giveaway
(1) winner will receive a print copy of the first three books of The True Lies of Rembrandt Stone!
Full tour schedule linked below. Giveaway began at midnight June 8, 2021 and will last through 11:59 PM EST on June 15, 2021. Winner will be notified within 2 weeks of close of the giveaway and given 48 hours to respond or risk forfeiture of prize. US only. Void where prohibited by law or logistics.
Giveaway is subject to the policies found here.
Follow along at JustRead Tours for a full list of stops!
*NOTE: This post contains affiliate links.