Welcome to the Celebrate Lit tour for The Fragrance of Violets by Susan K Beatty! I am just delighted to have her on the blog today. She is such a sweet author, and her books just really touch your heart. I know emotional reads are not everyone's favorite thing, but I love them. I need a good emotional ride every now and then! Plus her powerful themes really hit home. Please join me in welcoming Susy today!
** Affiliate links used **
About the Book
The Fragrance of Violets
Author
Susan K. Beatty
Published by
Amazon Digital Services LLC - Kdp
on May 11, 2022
Genres:
Fiction / Women
Pages:
278
Life crushes us with its weight sometimes.

Fiona's father abandoned her when she was twelve. So when she learns that he's the groom's father in the wedding she's been assigned to manage, all the old hurts resurface. Maybe if he'd just explain himself and ask forgiveness, she'd get over the pain he left her with-pain she obviously hadn't left behind after all.

When Nason discovered he wasn't Fiona's biological father, and when her mother tried to sabotage his marriage, he felt like he had no other option but to leave and never look back. Running into her again-awkward to say the least. And he can't understand why she feels betrayed-why she expects him to seek forgiveness.

As if life weren't complicated enough, Fiona meets Trevor, which sparks a possible romance. New faith, an overdose, and revelations combine with Trevor's discipleship and shows her how forgiveness really works.

What will it take for Nason to swallow his pride and see how his actions hurt an innocent child?

The Fragrance of Violets-as Mark Twain once said, "Forgiveness is the fragrance that the violet sheds on the heel that has crushed it."
Amazon
Author Interview
Welcome to the blog my dear friend!! I'm so happy to have you here today. Let's jump right in. When you are not writing, what do you like to do?
In my limited free time, I enjoy reading, watching old movies, crime shows, and British TV. I also love spending time with my grandchildren and children. Travel used to be a favorite, but the pandemic curtailed that. I hope to travel again soon.
I LOVE crime shows! Cannot get enough of them! What author has impacted your writing the most?
Author Cynthia Ruchti has been one of the strongest influences on my writing. I attended her mentoring sessions at Mount Hermon at the beginning of my writing journey. She is an excellent women's fiction writer and teacher. Her books are examples of superb storytelling that include the natural weave of the characters' spiritual journey. I want to be her when I grow up.
Oh she is an amazing author! But then, so are you!! What's your go-to bible verse during times of difficulty?
1 Corinthians 16:13-14: "Be alert, stand firm in the faith, be courageous, be strong. Do everything in love." During tough times, we can stand firm in our faith by remembering the promises of God and His character, because they are unchanging. We love because He first loved us.
Two other verses that are precious to me are: "Even when I go through the darkest valley, I fear no danger, for you are with me; your rod and your staff—they comfort me." (Psalm 23:4 CSB) and "For I know the plans I have for you—this is the Lord's declaration—plans for your well-being, not for disaster, to give you a future and a hope." (Jeremiah 29:11 CSB)
Those are such comforting verses. What are you working on next?
My third novel, Relinquished, is about a birth mother who discovers her relinquished child is kidnapped and inserts herself into the search. In her heart, she struggles with the need to reclaim her child. But, even if it were possible, is it the best for all concerned? Were the child's adoptive family culpable? Sometimes we struggle with the natural consequences of our actions and accepting God's will for our lives.
Oh my goodness! I can't wait to read it! What do you want your readers to get from reading The Fragrance of Violets?
Forgiveness is essential to our spiritual and mental health, although asking for or granting it is often difficult. In the Fragrance of Violets, readers follow Fiona and Nason on their journey through stubborn refusal, misunderstandings, difficult circumstances, and tough decisions. My prayer is the reader will gain empathy for others and perhaps better understand their own struggles. But most of all, I want the reader to enjoy the story.
Forgiveness is hard, but so necessary. Thank you for tackling such a difficult topic in your book! And of course for stopping by today. It was a pleasure to chat with you my friend.
About the Author
Who says you can't begin a new career after middle age? Certainly not Susan K. Beatty. She is passionate about writing about finding courage through faith and grit, particularly through the trials of breast cancer and other life trials. Her daughter is a metastatic breast cancer "thriver" and has been an inspiration for her writing. Susan's first novel, Faces of Courage, debuted May 2021, as part of the Faces of Courage series, including several novelettes. She is also the author of An Introduction to Home Education (AKA California Homeschool Manual). Susan is a professional writer/journalist and is active in the writer community. She is proof you can begin a fiction writing career at any age.
Blog Stops
Book Reviews From an Avid Reader, June 21
Gina Holder, Author and Blogger, June 22 (Author Interview)
Texas Book-aholic, June 23
Inklings and notions, June 24
A Baker's Perspective, June 25 (Author Interview)
For Him and My Family, June 25
deb's Book Review, June 26
Spoken from the Heart, June 27 (Author Interview)
Ashley's Clean Book Reviews, June 28
Because I said so — and other adventures in Parenting, June 29
Truth and Grace Homeschool Academy, June 30
Through the Fire Blogs, July 1 (Author Interview)
Debbie's Dusty Deliberations, July 2
Locks, Hooks and Books, July 3
Splashes of Joy, July 4 (Author Interview)
Happily Managing a Household of Boys, July 4
Giveaway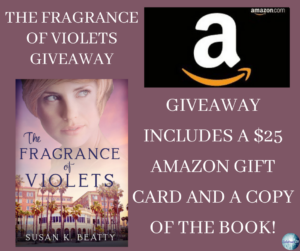 To celebrate her tour, Susan is giving away the grand prize package of a $25 Amazon gift card and copy of the book!!
Be sure to comment on the blog stops for nine extra entries into the giveaway! Click the link below to enter.
https://promosimple.com/ps/1eff9/the-fragrance-of-violets-celebration-tour-giveaway