Welcome to the Blog Blitz for The Paramedic's Forever Family by Tanya Agler, hosted by JustRead Publicity Tours! I'm excited to be able to share an excerpt with you today! I don't know about you, but most of the time I read an excerpt and just want more, which isn't a bad thing. 🙂
** Affiliate links used **

About the Book
The Paramedic's Forever Family
Author
Tanya Agler
Published by
Harlequin
on March 29, 2022
Genres:
Fiction / Romance / Clean & Wholesome
,
Fiction / Romance / Contemporary
,
Fiction / Romance / Medical
,
Fiction / Small Town & Rural
Pages:
368
Sometimes "good friends"
Just isn't enough…

Bachelor paramedic Mason Ruddick doesn't know what he'd do without Lindsay Hudson. The widowed mom is his sounding board, his neighbor and, since the death of her husband and his best friend, his lifeline. Only lately, Mason can't stop noticing just how beautiful and special Lindsay is. Or how often he thinks about her. Now Mason's heart is caught between the best friend he lost…and the one he's falling for.

Smoky Mountain First Responders

Book 1: The Single Dad's Holiday Match
Book 2: The Paramedic's Forever Family
Amazon
|
Barnes and Noble
|
Bookbub
|
Goodreads
Excerpt
"Need any help?"
Lindsay jumped at the sound of Mason's low husky voice behind her. "You scared me."
"Sorry about that, but you're just the person I was looking for."
Oh no, not again. Her jaw clenched, and she loaded a plank on the platform with a thud and quickly added the rest. "Not you, too? Let me guess. There's a new paramedic or firefighter in town, and you're convinced he'd be perfect for me. No thank you. Even if I wanted to get involved with someone again, and I don't, I would never date a first responder."
Even one as handsome as Mason.
Today's red tie-dyed T-shirt brought out the auburn glints in his thick wavy hair. She caught herself and blinked away that pesky thought.
"How many more planks? Can I do anything to make your life easier? Say the word and it's done." Mason pulled out another plank, and she stopped his hand with hers.
"I also need gravel, which is in a different aisle. See you at the fence tonight."
About the Author
An award-winning author, Tanya Agler makes her home in Georgia with her wonderful husband, their four children, and a lovable rescue beagle. When she's not writing, Tanya loves classic movies, chocolate, and a good cup of tea. Visit her at www.tanyaagler.com or email her at tanyaagler@gmail.com.
CONNECT WITH TANYA: Website | Facebook | Twitter | Instagram
Giveaway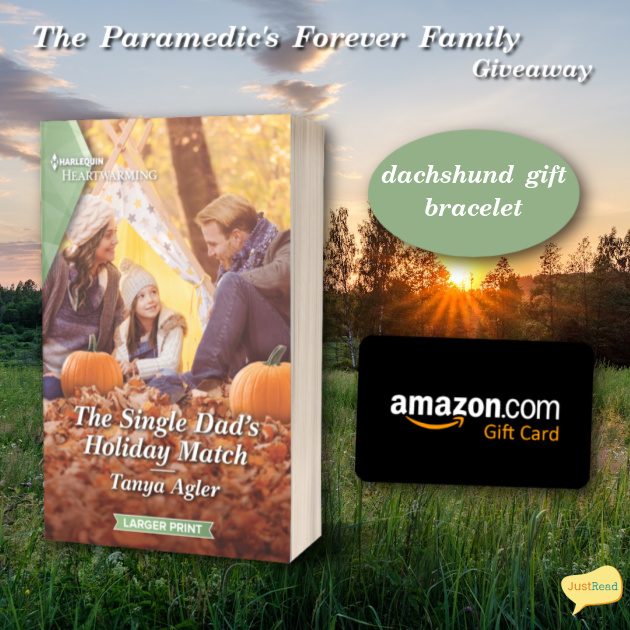 (1) winner will receive a $20 Amazon gift card, a signed copy of The Single Dad's Holiday Match, and a dachshund bracelet!
Full tour schedule linked below. Giveaway began at midnight April 6, 2022 and will last through 11:59 PM EST on April 13, 2022. Winner will be notified within 2 weeks of close of the giveaway and given 48 hours to respond or risk forfeiture of prize. US only. Void where prohibited by law or logistics.
Giveaway is subject to the policies found here.
Follow along at JustRead Tours for a full list of stops!