Today I'm excited to share a sneak peek of The Silver Shadow by Liz Tolsma, coming in May! This is the latest in the True Colors series from Barbour and I cannot wait to read it 🙂
About the Book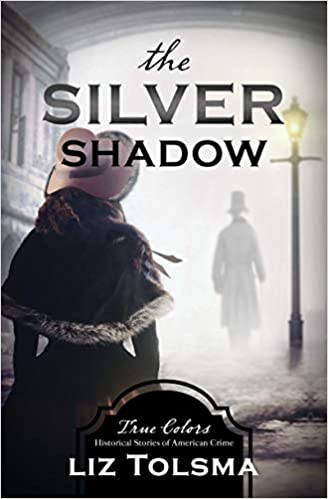 The Silver Shadow
Author
Liz Tolsma
Published by
Barbour Publishing
on May 1, 2021
Genres:
Christian
,
Fiction
,
Historical
,
Romance
,
Suspense
Pages:
256
Fiction Based on Strange, But True, History True, riveting stories of American criminal activity are explored through a unique stories of historical romantic suspense. Collect them all and be inspired by the hope that always finds its way even in the darkest of times. Denver of 1900 is still a dangerous place to be following the silver crash of 1893. And of out of the dark comes a shadow intent on harming women. Ambitious young Denver newspaper reporter Polly Blythe is searching for the big story that's going to launch her career. On Friday evening, August 24, 1900, she gets her break when two women are cracked over the head within a two-minute walk of each other. But policeman Edwin Timmer thwarts Polly's ideas of a serial criminal. . .until the shadowy figure strikes again. Will the reporter and the policeman team up to find the culprit before he strikes too close for comfort?
Amazon
|
The Book Depository
Excerpt
"Yes, of course." Polly slid back to her rolltop desk. She would do a bang-up job on the piece. They would see. Mr. Ward wouldn't be disappointed.
Harry mumbled something else that Polly didn't catch. No matter. She had her first real story to report. She would show Mr. Ward and Harry. And everyone else who had
ever doubted her. This was big. She stood and bounced on her tiptoes.
Now, to get going. Without a moment's thought, she settled her rather unflattering fedora on her head, the paper stuck in the band proclaiming her as part of the press, swiped her notebook and pencil from her desk, and swept from the building into the darkening Denver evening.
In spite of the August heat, she shivered. That woman had been on the street alone. Polly had to make the trek herself. Alone. A few blocks to catch the streetcar. A few more after she got off.
What if the perpetrator hadn't been caught yet?
_
Another mugging. Two of them, to be exact.
Edwin Price sat back in his office chair in the middle of the Denver Police Department
and sighed. There was nothing unusual about that. Muggings were an almost daily occurrence. Some people apparently still believed Denver to be the Wild West. And nothing the cops did changed the numbers.
He'd joined the force to make up for that night he had done nothing. To absolve himself. To make a difference this time.
Some difference he was making.
"What have you got there?" Edwin's partner, Ralph O'Fallon, nodded to the file in Edwin's hand.
"Two more muggings. Women out alone. Happened within a two-minute walk of each other."
"That's a little bit different." O'Fallon positioned himself on the corner of Edwin's desk. The only clutter-free corner of it. "Anything else to it?"
Other Excerpts
Excerpt One: https://vickysluitercom.wordpress.com/author-spotlight/
Excerpt Two: https://beckiebythebook.com/2021/04/12/book-launch-the-silver-shadow/
Excerpt Three: https://janemouttet.wordpress.com/2021/04/12/epic-book-launch-the-silver-shadow-excerpt-3/
Excerpt Four: http://www.simpleharvestreads.com/posts/the-silver-shadow-book-excerpt/
Excerpt Five: https://abakersperspective.com/the-silver-shadow-by-liz-tolsma/
Excerpt Six: https://litteraegaudium.wordpress.com/2021/04/10/the-silver-shadow-epic-book-launch/
Excerpt Seven: https://www.susankbeatty.com/silver-shadow/
About the Author
Liz Tolsma is the author of several WWII novels, romantic suspense novels, prairie romance novellas, and an Amish romance. She is a popular speaker and an editor and resides next to a Wisconsin farm field with her husband and their youngest daughter. Her son is a US Marine, and her oldest daughter is a college student. Liz enjoys reading, walking, working in her large perennial garden, kayaking, and camping. Please visit her website at www.liztolsma.com and follow her on Facebook, Twitter (@LizTolsma), Instagram, YouTube, and Pinterest. She is also the host of the Christian Historical Fiction Talk podcast.
Have you read any of the books in this series? What interests you about this one?