Welcome to the I Read with Audra Blog Tour for The Songs That Could Have Been!! I already want to start gushing about this book, but I'll wait until my review. I will say this – be sure you enter the giveaway. And if don't win, run and get your own copy. This book – wow. You need to read it. Just read the excerpt (link a little further down!) if you don't believe me!
** Affiliate links used **
About the Book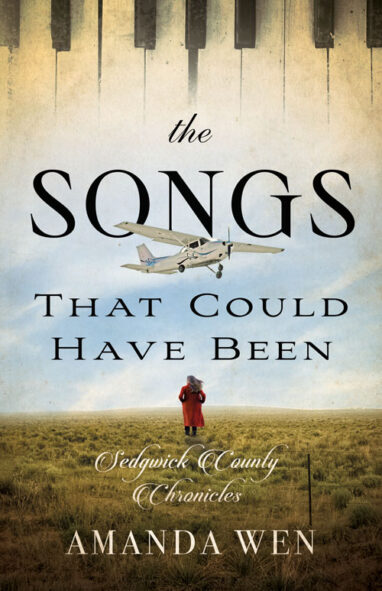 The Songs That Could Have Been
Author
Amanda Wen
Published by
Kregel Publications
on July 1, 2022
Genres:
Fiction / Christian / Romance / Historical
,
Fiction / Romance / Historical / 20th Century
,
Fiction / Romance / Multicultural & Interracial
Pages:
272
The 'can't miss' book of the year.--Amanda Cox, The Edge of Belonging

Two couples in love. Two sets of impossible circumstances. One powerful God of grace.

After a tailspin in her late teens, Lauren Anderson's life is finally back on track. Her battle with bulimia is under control, her career is taking off, and she's surrounded by a loving family. Then a chance meeting with Carter Douglas, her first love and the man who broke her heart, leads to old feelings returning with new strength. And suddenly her well-balanced world is thrown off kilter.

Now a TV meteorologist, Carter is determined to make amends with Lauren. After all, she still owns his heart. But the reasons they broke up aren't lost--and those old demons are forcing him toward the same decision he faced in the past. He isn't sure he's courageous enough to make a different choice this time around.

When Lauren's elderly grandmother, Rosie, begins having nightmares about a man named Ephraim--a name her family has never heard before--a fascinating and forbidden past love comes to light. As Lauren and Carter work to uncover the untold stories of Rosie's past in 1950s Wichita, they embark on a journey of forgiveness and second chances that will change their lives--and Rosie's--forever. Along the way they'll learn that God wastes nothing, his timing is perfect, and nothing is beyond his grace and redemption.

The Songs That Could Have Been is full of the same deftly handled, resonant writing that readers and critics alike enjoyed in Amanda Wen's first book in the series. Fans of Lisa Wingate and Rachel Hauck will add Amanda Wen to their must-read shelves.
Amazon
|
Barnes and Noble
|
Bookbub
|
ChristianBook.com
|
Goodreads
Click here to read an excerpt.
My Perspective
Wow.
Amanda Wen is an AMAZING author. Her ability to not only tell a story, but draw readers into the plot are out of this world. Readers will feel every emotion while reading this book, and become immersed in the lives of Rosie and Ephraim. Lauren and Carter too for that matter. But honestly, it was Rosie that stole the show from start to finish.
First let me applaud Wen on her ability to write Rosie's current day POV. If you ever wonder what someone is alzheimer's is thinking, or how they process things, read this book. There are not a lot of chapters that you get this POV, but they pack a very powerful punch. Again, all the feels!
But how she tackled Rosie and Ephraim's story with such grace, truthfulness, dignity, and poise just spoke volumes of her abilities as an author. An interracial couple in that time period was, of course, unheard of. A tough topic to broach for sure. Rosie and Ephraim remind readers about what love is truly about – the person on the inside. Love can bring differences together is beautiful harmony. I love how she compares this couple to the keys on a piano. It was poetically beautiful.
The contemporary component to the story was wonderful to read as well, but it was really the historic piece that spoke to my heart. And the way she brings it all together in the end? Well, I cried. Literally. I can't really say more than that – spoilers you know – but I will say that you will be touched. The Songs that Could Have Been is a must read novel. A novel that should be read by book clubs, friend groups, church groups and more. I highly recommend reading this novel.
I received a complimentary copy of this book. I was not required to write a favorable review. All thoughts and opinions are my own.
About the Author
Amanda Wen is an award-winning writer of inspirational romance and split-time women's fiction. She has placed first in multiple writing contests, including the 2017 Indiana Golden Opportunity, the 2017 Phoenix Rattler, and the 2016 ACFW First Impressions contests. She was also a 2018 ACFW Genesis Contest finalist. Her debut novel was a 2021 Christy Award First Novel finalist.

Wen is a member of American Christian Fiction Writers (ACFW) and regularly contributes author interviews for their Fiction Finder feature. She also frequently interviews authors for her blog and is a contributor to the God Is Love blog. She is the author of Roots of Wood and Stone and The Songs That Could Have Been.

In addition to her writing, Wen is an accomplished professional cellist and pianist who frequently performs with orchestras, chamber groups, and her church's worship team. She serves as a choral accompanist as well. A lifelong denizen of the flatlands, Wen lives in Kansas with her patient, loving, and hilarious husband, their three adorable Wenlets, and a snuggly Siamese cat.

To find Amanda Wen's blog and short stories, visit www.amandawen.com. Readers can also follower her on Facebook (@AuthorAmandaWen), Twitter (@AuthorAmandaWen), and Instagram (@authoramandawen).
Giveaway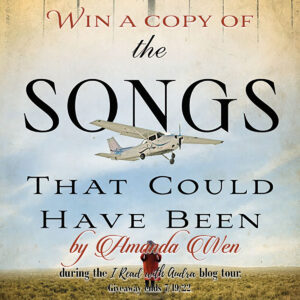 a Rafflecopter giveaway
What was the last book that touched your heart!?