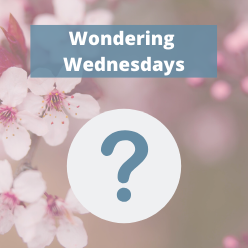 Welcome to Wondering Wednesdays, a weekly post to learn more about me and other bloggers ?
Today's questions is – Can you tell me about your family?
Well this is a dangerous question, because I could talk about my family all day long! But I will try to keep it short so I don't bore you!
I've been married to my hubby for 19 years. He's a stay at home dad who loves playing video games. He also happens to wash dishes, do laundry, help clean the house, and keeps me sane during the work week. I come from a family full of divorces and I was determined to have a marriage that lasted. I'm so thankful that hubs and I have been able to make it work thus far. It's not always easy, but nothing in life truly is!
I almost lost my husband years ago. He became very ill from cirrhosis of the liver (for the record, he doesn't drink or anything – the doctors could never figure out how he got sick). It's a long boring story, but let's just say although he was on the transplant list, his symptoms didn't qualify him to be high on the list, even though he was literally going to die from it. Our brother in law stepped up and donated a portion of his liver! Although the procedure didn't totally work, and hubby had a second transplant less than a week later, he's alive and well today and I am ever so grateful.
As you can see from this picture, we have one daughter. I was never able to get pregnant again after her, and so having her is even more of a blessing. She's 17, and about ready to graduate high school. She is such a wonderful young lady, and will be going to a nearby state college in the fall for early childhood education. She loves the Lord, reads her bible everyday, and makes this mama so proud. She's super smart, kind, has a HUGE heart, and loves to read. We enjoy reading Bethany Turner books together 🙂
She also loves to help me bake and has recently started cooking a little. I think it's to prepare for her future. She sure is going to make a good mama one day! I'm just so thrilled to see what the Lord has for her future. I cannot believe she's already graduating high school. Why does the time go by so fast!?
So that's a little background on my family. We love playing board games together, watching movies, tv shows, and just hanging out. We recently got a fire pit, so I imagine there will be many summer nights spent outside, toasting marshmallows and making memories. I cannot wait!
Tell me a little about your family 🙂
To find out more information on this weekly post, or to submit a question for a future post, please visit Wondering Wednesdays. If you're a blogger, please connect using the link below! We need more questions for future posts, so please be sure to use the google form and ask way!