Welcome to the I Read With Audra blog tour for Husband Auditions by Angela Ruth Strong. If you have not yet read this book, then you don't know what you are missing. Friends, it is so good, so hilarious. Yeah, just go read it. Now, if you have read it, then I highly encourage you to listen to the 2-part podcast session on The Because Fiction Podcast where Chautona and Angela compare their books. It is hilarious! And pretty informative. But it does contain spoilers, so first you need to read Angela's book, and Chautona's (Blessing Bentley). You can thank me later for that!
Okay, back to the tour. I'm so excited to have Angela here today to not only talk about the book, but to offer an amazing giveaway. Make sure you read the entire post guys!!!
** affiliate links used **
About the Book
Husband Auditions
Author
Angela Ruth Strong
Published by
Kregel Publications
on August 17, 2021
Genres:
Fiction / Christian / Romance / General
,
Fiction / Romance / Clean & Wholesome
,
Fiction / Romance / Romantic Comedy
Pages:
272
How far would you go to find the perfect husband? All the way back to the 1950s?

In a world full of happily-ever-after love, Meri Newberg feels like the last young woman on the planet to be single, at least in her Christian friend group. So when she's handed a strange present at the latest wedding--a 1950s magazine article of "ways to get a husband"--she decides there's nothing to lose by trying out its advice. After all, she can't get any more single, can she?

Her brother's roommate sees the whole thing as a great opportunity. Not to fall in love--Kai Kamaka has no interest in the effort a serious relationship takes. No, this is a career jump start. He talks Meri into letting him film every silly husband-catching attempt for a new online show. If it goes viral, his career as a cameraman will be made.

When Meri Me debuts, it's an instant hit. People love watching her lasso men on street corners, drop handkerchiefs for unsuspecting potential beaus, and otherwise embarrass herself in pursuit of true love. But the longer this game goes on, the less sure Kai is that he wants Meri to snag anyone but him. The only problem is that he may not be the kind of husband material she's looking for . . .

With droll comic timing, unbeatable chemistry, and a zany but relatable cast of characters, Angela Ruth Strong has created a heartfelt look at the reality of modern Christian dating that readers will both resonate with and fall for.
Amazon
|
Barnes and Noble
|
Bookbub
|
ChristianBook.com
My Perspective
Husband Auditions is unlike any book I have ever read and I loved it. First of all, the list of ways to catch a husband is so comical! I know it's inspired from a real list, which totally blows my mind. But the way Strong weaves it into the storyline was brilliant. I mean, single ladies everywhere should read this. Not necessarily for the tips lol, but for laughs. And for the ultimate message (at least to me) – God's timing is perfect. Waiting for it is super hard, but so worth it in the end. And also, there is more to people then what you see on the surface. Kai is case and point on this one. You'll have to read it to understand.
This book had me laughing out loud several times. I mean, I was kind of wanting the Youtube channel to me real so I could go watch the videos for Meri Me. Thankfully I have a vivid imagination, and so I was picturing it as I read. Strong is such a fantastic writer. Not only is her comedy perfectly placed, but her characters and the way I was drawn to them surprised me. It's not too often you get connected to characters in a chick-flick (which in my mind is essentially what this is), but I was totally invested in Meri and Kai. And the ending? Well let me just say this, it was a surprise. And I can't say more than that because **spoilers**! And again, this just shows how creative, crafty, and excellent Strong's writing is.
I highly recommend Husband Auditions to romcom fans who are looking for something quirky, different, hilarious, and fun. This story is sure to bring a smile to your face! I received a complimentary copy of this book. I was not required to write a favorable review. All thoughts and opinions are my own.
Author Interview
Please introduce us to your new book, Husband Auditions. Where did the inspiration for "the list" come from?
Husband Auditions tells the story of Meri Newberg who is the last single woman among her friend group. At the latest wedding, she's handed a strange present—a 1950s magazine article with a list of "ways to get a husband." She starts thinking about trying out a few of them because it sure couldn't hurt.
Her brother's roommate, Kai Kamaka, sees the whole thing as a great opportunity to jumpstart his career as a cameraman. He talks Meri into letting him film every silly husband-catching attempt for a new online show in the hopes of it going viral.
I got the idea for Husband Auditions from a real article "129 Ways to Get a Husband" that was published in McCall's magazine in the 1950s. (You may have seen it online when it was floating around Facebook a couple of years ago like I did.) Some of the suggestions were quite outlandish (ex: stand on a street corner with a lasso), and I imagined what would happen if a modern-day woman tried them out.
Husband Auditions is told from both the perspectives of Meri and Kai. Did that make the plotting out and writing of the book more difficult?
I love playing with point of view. Being that this book is primarily for women, most readers will relate more to Meri's POV, but Meri is such a character that it was fun having Kai's perspective on her.
They are complete opposites so readers go from the end of one chapter where they see her thinking this is the worst thing that could ever happen to her to the beginning of another chapter in Kai's head where he's enjoying every minute of it. I also wanted to have chapters from Kai's point of view because he doesn't say everything he's thinking the way Meri does. The reader needs to understand where he's coming from so they can better root for Meri.
What does Meri get wrong about her idealistic views of marriage?
Meri believes that if God had the right man for her from the beginning, then she would just have to wait for God to bring him along. It scares her when she sees relationships that she'd once envied start to fall apart. She'd put so many dreams and desires on hold to become the perfect candidate for matrimony, but what if she were to finally have the perfect wedding, but the marriage didn't last?
She realizes marriage doesn't offer the guarantee of happiness that she'd been hoping for, and she starts pursuing her dreams again. Rather than trying to become the kind of woman a man would want to spend his life with, she's going to be the kind of woman she would want to spend her life with. The kind of woman who can choose to be part of a healthy relationship and do the hard work it will require to keep it healthy because she's not expecting her significant other to make her happy.
What advice would you give to single women about the desire to find love and their dreams for marriage?
The best advice I ever got was this: When two people are in a relationship, they have to be relatively close in emotional health. When one person starts to grow, it creates tension in the relationship like a rubber band stretched between two fingers. With such tension, one of three things has to happen. Either the less healthy person chooses to grow, the more healthy person has to regress, or the less healthy person leaves. In all your relationships, choose to grow. If the person you want to be in a relationship with chooses NOT to grow, you are going to be healthier without them. Don't ever choose "bad love" over no love at all. You are worth much more than that. And you are already loved more than you can even imagine. Let Jesus be your enough, and as you run towards Him, look for a man who wants to run by your side.
Why is this book special to you as the author?
I absolutely loved writing this book. I'd finished it, and my agent was shopping it when I got breast cancer. Through cancer, I didn't have the energy to write. I didn't have energy to do anything but lie on the couch and stare off into space. As I stared, I relived this book in my mind. I played it like a movie in my head. And I looked forward to this day—to the day I could share it with you. It kept me going through five months of chemo and a double mastectomy. No other book will ever hold this place in my heart.
Do you think readers will get to read more about Meri and Kai in the future? What can readers look forward to next?
I'd considered writing romances for Meri's brother and roommate, but I prefer standalone novels. My next rom/com is called Football is My Boyfriend. It's about a woman who unexpectedly finds herself single and in possession of four college football season tickets. She invites her mom, sister, and a friend to join her at the games, not realizing she'll see her ex at the stadium. As the women cheer together, she learns enough about teamwork to make a relationship work…but it's going to take a Hail Mary to win her boyfriend back.
About the Author
Angela Ruth Strong sold her first Christian romance novel in 2009 then quit writing romance when her husband left her. Ten years later, God has shown her the true meaning of love, and there's nothing else she'd rather write about.
She is the author of the Resort to Love series and the CafFUNated mysteries. Her books have since earned TOP PICK in Romantic Times, won the Cascade Award, and been Amazon best-sellers. Finding Love in Big Sky was recently filmed on location in Montana and will air soon. Her latest release is Husband Auditions.
Strong also writes non-fiction for SpiritLed Woman. To help aspiring authors, she started IDAhope Writers where she lives in Idaho and teaches as an expert online at Write That Book.
Learn more at www.angelaruthstrong.com, and follow her on Facebook (Angela Ruth Strong Fan Page), Twitter (@AngelaRStrong), and Instagram (@ang_strong).
Giveaway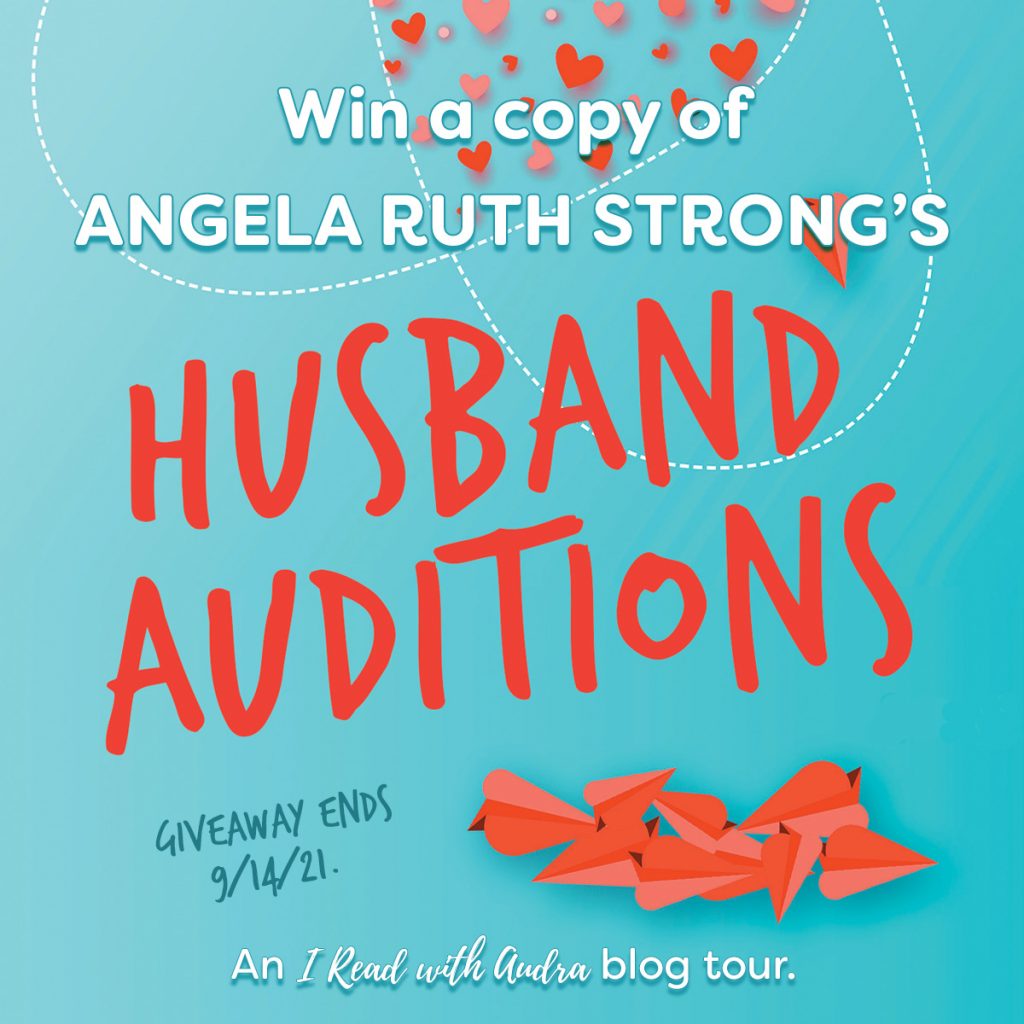 a Rafflecopter giveaway