Hello reader friends!!!
Have you heard the name Janine Rosche? If not, where are you hiding? LOL. Just kidding. Not only does Janine make fantastic reels on IG, she is an AMAZING author! I am so excited to share her new book with you today. I've read it and it's I think my favorite of hers to date. (Review to come) I mean, I really love all her books. She's got this charming and witty way of writing stories that make me smile. They are an absolute delight to read, and if you're ever feeling blue, they are a good pick-me-up!
** affiliate links used **
About the Book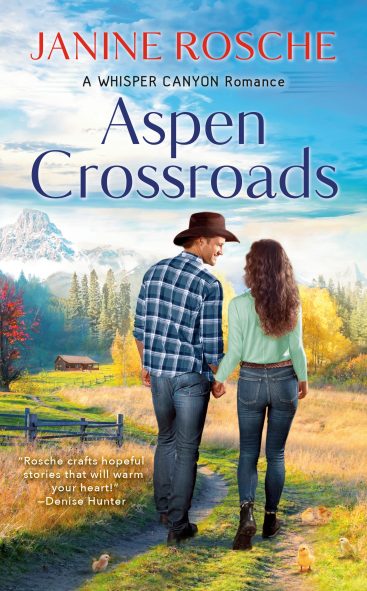 Aspen Crossroads
Author
Janine Rosche
Published by
Penguin
on August 24, 2021
Genres:
Fiction / Christian / Contemporary
,
Fiction / Romance / Clean & Wholesome
,
Fiction / Romance / Western
Pages:
352
To protect those most vulnerable, Haven Haviland must trust her heart--and her regrets--to a mysterious newcomer in this moving contemporary romance.

Few in the community of Whisper Canyon have actually met Jace Daring, a handsome recluse who lives at Aspen Crossroads, the farm at the edge of town. But that doesn't stop the rumors about the multiple women who live with him. He must protect the truth--that his farm-to-table restaurant will provide new livelihoods for women rescued from human trafficking--or he risks the safety and futures of those relying on him. But he can't do it alone.

Haven Haviland has always been everyone's safe place to fall until one mistake closes her counseling practice and leaves her open to the town's gossip. Trusting men has gotten her in trouble before. However, accepting Jace's job offer to mentor the rescued women seems like the perfect way to right her wrongs.

When the mayor's campaign to clean up Whisper Canyon targets Aspen Crossroads, the restaurant comes under fire, dangers from the women's pasts are awakened, and Haven's sins are exposed for all to see. Jace would sacrifice himself to save Haven and the women under his care, but his efforts might not be enough. And in the end, it might not be the women most in need of saving after all.
Amazon
|
Barnes and Noble
|
Bookbub
|
Goodreads
|
The Book Depository
Excerpt
"Excuse me, miss. I have a question for you. Are you planning to buy that Ameraucana?"
Instinctively, Haven drew the chick close, holding her against her chest. The other chicks now peeked out of a cardboard box, their heads bopping about in time with their chirps. Beyond the box, a pair of legs donning work boots and jeans rose vertically until the light over the baby pool washed out the rest.
"Because if you aren't, I'd like to." The voice was masculine enough to stir up a few flutters in
her belly. Then the owner of the voice bent down into a crouch. The light caught the striking lines of his face. A strong jaw and straight nose played against the tuft of sandy hair peeking out from his backward baseball cap, creating a playful combo of boyish and manly. He wasn't from around here. Haven would remember him.
"I . . ." Haven started, peering down at the chick in her hands. "I hadn't thought about it." She had no coop. She had no house, either. At least not one of her own. With all Dad had going on, the last thing he needed to worry about was a pet chicken. "I guess not."
The cute guy watched her for a long moment. If he was in a rush, he wasn't showing it. The chick wiggled against her palms.
"She has an injured foot."
His brow furrowed, and his lips dipped into a frown. He rose, then stepped around the pool to join Haven. When she stood, the man towered a good half foot above her. For some reason, she thought of the hickory armoire in her childhood bedroom at her dad's house. "It's sturdy," Dad
had said the day he gifted it to her. Now as she stood in a darkened tent with this handsome stranger, all she could think about was that dumb piece of furniture.
"Sturdy."
"What?" he asked.
"Um, the chick. I don't know how sturdy she'll be as she grows." Haven opened her hands to give him a view of the animal.
Yet the man waited two feet away. "May I?"
It took a second for Haven to realize what he wanted permission for. A gentleman? Now she was sure he wasn't from Whisper Canyon. Haven gave a quick nod, and he moved in to inspect the chick. He allowed the warped toes to wrap his fingertip. He was gentle as he thumbed the tiny bones and talons. With his other hand, he stroked the chick's head. With each movement, he brushed Haven's hand, forcing her to train her thoughts on the animal— not the man whose ocean- clean scent threatened to buckle her knees.
No wedding ring. So much for training those thoughts. But she'd learned that was the most attractive trait a man could exhibit. Well, that and a habit of honesty, which was rare these days.
"I can try to splint those." His voice dove to a deep, lulling timbre. Was he trying to soothe the bird? Or her? "Hopefully, it's only cosmetic. If so, she'll still be plenty useful to me."
Haven closed her hands and twisted away from him.
"Are you planning to eat her?" His smile cracked. "Ameraucanas aren't meat birds. But I do plan to eat her eggs. Is that all right with you?"
The panic eased out on a breath. "I suppose."
He held out his hands. They were calloused but clean, and Haven liked the look of them. Sturdy.
Again, with that word. Haven placed the chick in his hands, his rough skin catching slightly on hers. Following her father's advice, she looked the man straight in the eye to let him know she could hold her own. Not that the guidance had worked for her so far. Here she was, unemployed with no job prospects, covered in salmonella, and debating custody arrangements for a chicken.
"Thanks, miss. I'll take good care of her."
"Audrey."
His forehead wrinkled. "Thanks, Audrey."
"No, I'm not Audrey. The chick is Audrey. Hepburn." Confusion turned to amusement. "How about Audrey Henburn?" His eyes pierced hers. She couldn't tell their color in this light, but they crinkled at the corners and warmed her straight through. An image of the two of them sitting beneath a tree as the chicks hopped around their legs appeared in her head, but she quickly dismissed it. Her judgment, or lack thereof, was troublesome these days. A man, especially one like this, was the last thing she needed.
From ASPEN CROSSROADS published by arrangement with Berkley, an imprint of Penguin Random House LLC. Copyright © 2021 by Janine Rosche.
About the Author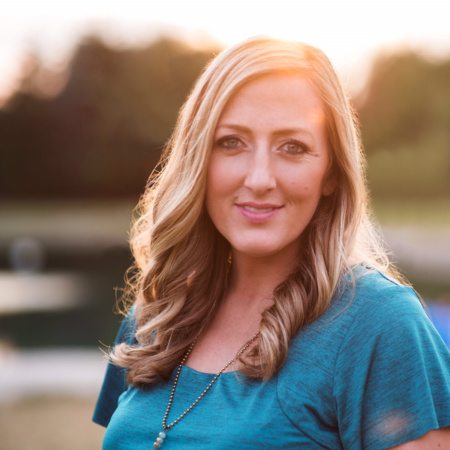 Prone to wander, Janine Rosche finds as much comfort on the open road as she does at home. This longing to chase adventure, behold splendor, and experience redemption is woven into each of her rustic romance novels in the Whisper Canyon Romance series and the Madison River Romance series. When she isn't writing or traveling, she teaches family life education courses to college students, takes too many pictures of her sleeping dogs, and embarrasses her four children and husband with boy band serenades.
After reading that excerpt don't you want to just keep reading!?