Welcome to the Blog + Review Tour for Blood From a Stone by David James Warren, hosted by JustRead Publicity Tours! If you haven't read this series yet, then you need to drop everything you are doing and run to Amazon lol. It's SOOOOOOO good. Each installment has you sitting on the edge of your seat, and thank goodness the releases are not too spaced out. I have no patience when it comes to seeing what's next! I'm so excited to share a little snippet of the story with you today. Be sure to enter the giveaway too!
** affiliate links used **
About the Book
Blood from a Stone
Author
David James Warren
Published by
Tristone Media Group
on October 5, 2021
Genres:
Detective
,
Time Travel Detective Series
,
Time Travel
He fled the future with blood on his hands. Now, he'll do anything to stop a killer.
Tragedy has yet again taken from Detective Rembrandt Stone everything he loves. Now, he has one last chance to get things right and stop a killer he's been hunting across four timelines. Instead, he gets tangled in a petty crime that just might cost him his one chance at justice.
With two murders to stop, and thirty-eight lives still in the balance, Rembrandt must play his hand against time just right if he wants to win his future. Play it wrong and his life will stay shattered beyond repair.
What sacrifices will he have to make to come home to his wife and daughter?
The stakes have never been higher in the heart-wrenching, edge-of-your-seat fifth story of the True Lies of Rembrandt Stone.
Amazon
|
Barnes and Noble
|
Bookbub
|
ChristianBook.com
Books in the Series
CONNECT WITH REMBRANDT STONE: Website | Instagram
Excerpt
Chapter 1
This is not my world.
Not my life.
Not my time.
Sure, it resembles a life I knew—from the snow piled up along the blackened,
salted streets, the icy wind buffeting the frosty diner window, to the sound of Celine
Dion singing how her heart will go on, and even the smell of oil in the fryers of the
late-night diner. It could be any one of the diners I used to frequent in downtown
Minneapolis after a long day of investigations.
But this is not my life.
My life is twenty years in the future, and right now, if fate were kind, or even fair,
I would be reading Llama, Llama, Red Pajama to my seven-year-old blonde cherub as
she clutches a ratty one-eyed bear named Gomer and tells me to slow down, to read it
again.
My gorgeous wife, Eve, would be standing in the doorway of our partially
remodeled craftsman located in a suburb of Uptown. Or maybe she'd be across the
hall in our king bed, bundled up in her wool socks and thick bathrobe, her reading
glasses down on her nose, deep in the latest issue of the Journal for Forensic
Scientists.
Downstairs, the light in my den would be on, the cursor at my computer blinking,
waiting for me to continue my half-finished novel.
And I would be happy. Until now, I wouldn't realize how happy, but as I sit here, I
know.
I had a happy ending.
This is not it. But this time around, if I'm smart, I'll win.
I must win.
To a time traveler, until you've been someplace for a long time, rewriting the past
feels like a game. We jump into the moment, armed with knowledge we shouldn't
possess, the older and wiser versions of ourselves, with the goal of rewriting our lives,
this time for the better.
For us, the game isn't win or lose, but rather, scored on the what-ifs that we grab,
the shouldas we accomplish. And, all the while, in the back of our minds, if we make
a wrong move, we're buoyed by the surety it can be reset.
It's taken me four rounds, but this time I know.
This is not a game.
Time is playing for keeps and there's no reset if I fail.
But don't worry—this time, I will not be bested.
I swear it on my life.
About the Authors
James L. Rubart is 28 years old, but lives trapped inside an older man's body. He's the best-selling, Christy Hall of Fame author of ten novels and loves to send readers on mind-bending journeys they'll remember months after they finish one of his stories. He's dad to the two most outstanding sons on the planet and lives with his amazing wife on a small lake in eastern Washington. More at http://jameslrubart.com/
CONNECT WITH JAMES: Website | Facebook | Instagram | Twitter
Susan May Warren is the USA Today bestselling, Christy and RITA award–winning author of more than eighty novels whose compelling plots and unforgettable characters have won acclaim with readers and reviewers alike. The mother of four grown children, and married to her real-life hero for over 30 years, she loves traveling and telling stories about life, adventure, and faith.
For exciting updates on her new releases, previous books, and more, visit her website at www.susanmaywarren.com.
CONNECT WITH SUSAN: Website | Facebook | Instagram | Twitter
David Curtis Warren is making his literary debut in these novels, and he's never been more excited. He looks forward to creating more riveting stories with Susie and Jim, as well as on his own. He's grateful for his co-writers, family, and faith, buoying him during the pandemic of 2020, and this writing and publishing process.
CONNECT WITH DAVID: Instagram
Giveaway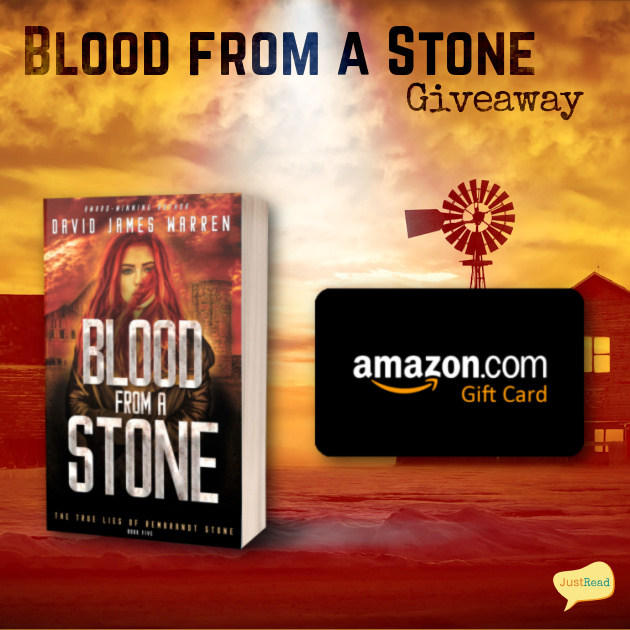 (1) winner will receive a print copy of Blood from a Stone and a $15 Amazon gift card!
Full tour schedule linked below. Giveaway began at midnight October 5, 2021 and will last through 11:59 PM EST on October 12, 2021. Winner will be notified within 2 weeks of close of the giveaway and given 48 hours to respond or risk forfeiture of prize. US only. Void where prohibited by law or logistics.
Giveaway is subject to the policies found here.
ENTER GIVEAWAY HERE
Follow along at JustRead Tours for a full list of stops!