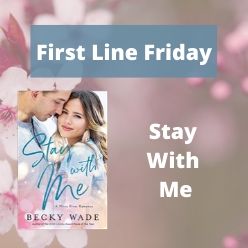 Welcome to First Line Friday, hosted by Hoarding Books!
Today I'm featuring the first line of a book I hope to start tonight, around our new fire pit! I cannot tell you how much I love this fire pit. I have wanted one for years, and have had some versions of them in the past, but it's nothing like digging up the ground and putting beautiful stones in a circle. I know, I'm weird. But you kind of already knew that 😉
Like Papa Bear in the Goldilocks story, Sam Turner had discovered a strange woman sleeping in the bed of a house he owned.
I cannot wait to dive into this book. I'm a HUGE Becky Wade fan!! Look for my review to come Thursday as part of the Prism Book Tour!
And now it's your turn! Grab the book nearest to you and share the first line in the comments. Don't forget to check out what everyone else is reading at Hoarding Books!