I am so excited to have Stephenia McGee chatting with me today! She is such an amazing author, and the sweetest person ever. I was blessed to be able to meet her in person, and y'all (yep this northerner is saying it!), she is just as genuine in person as she is online. Her stories are full of history, romance and intrigue. If you haven't heard, she has a new book coming out that is a little different then her norm. Read on for more info!
ABOUT THE BOOK
The Secrets of Emberwild
Author
Stephenia H. McGee
Published by
Revell
on October 4, 2022
Genres:
Fiction / Christian / Historical
,
Fiction / Christian / Romance / General
,
Fiction / Romance / Historical / General
Pages:
320
A gifted trainer in a time women are not allowed to race, Nora Fenton prefers horses to men. They're easier to handle, they're more reliable, and they never tell her what to do. After her father's passing, Nora is determined to save her struggling horse farm, starting with entering her prize colt into the harness races at the 1905 Mississippi Fair. If she wins, she may have a chance at independence. But when a stranger arrives and starts asking disconcerting questions, she suspects he may have other motives than unseating her in the training job that is rightfully hers.

Silas Cavallero will do whatever it takes to solve the mystery of his father's death--even if it means training an unwieldy colt for Nora, who wants nothing more than to see him gone. But when mysterious accidents threaten their safety and circumstances shrouded in secrets begin unlocking clues to his past, Silas will have to decide if the truth is worth risking ruining everything for the feisty woman he's come to admire.
Amazon
|
Barnes and Noble
|
ChristianBook.com
|
Baker Book House
ABOUT THE AUTHOR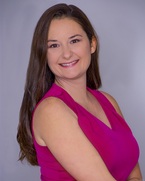 Stephenia H. McGee is a multi-published author of stories of faith, hope, and healing set in the Deep South. She lives in Mississippi, where she is a mom of two rambunctious boys, writer, dreamer, and husband spoiler. Her novel The Cedar Key was a 2021 Faith, Hope, and Love Readers' Choice award winner. A member of the ACFW (American Christian Fiction Writers) and the DAR (Daughters of the American Revolution), she loves all things books and history. Stephenia also loves connecting with readers and can often be found having fun with her Faithful Readers Team on Facebook. For more on books and upcoming events and to connect with Stephenia, visit her at www.StepheniaMcGee.com.
CHATTING WITH STEPHENIA
Welcome my friend!!! I'm thrilled to have you here today. Let's get right to it. The Secrets of Emberwild is a different story then we are used to seeing from you. What sparked the idea for this novel?
I actually have a degree in equine science, so I used my knowledge of natural horsemanship and my experiences with horses in this book. It was a lot of fun for Nora to share my love of horses and a few of my more interesting debacles with training!
What did you learn while writing this story?
Research is one of my favorite parts of writing. There is so much to learn! I researched the Neshoba County Fair, which is a tradition that continues in Philadelphia, Mississippi, to this day. Every July, an entire population moves into a small city of fair cabins for a full week of horse races, contests, the midway, and time spent with family and friends.
I learned a lot about the early days of the fair, as well as all kinds of things about trotters, time trials, harness racing, and training methods of the time. I found it all fascinating.
How was your writing journey for this novel different than past novels?
This book was an entirely new process for me. The Secrets of Emberwild is my first book contracted with a traditional publishing house, so I got to see the production aspects from an entirely new angle. Having spent years building a successful indie publishing label, I was used to doing or scheduling everything on my own.
We contracted this book with just a brief outline, so this was the first time I truly experienced writing an entire book under a deadline I didn't set myself. I have absolutely loved working with the team at Revell. They are incredible. I've had a blast getting a book ready with them and cannot wait to get to share it with my readers.
Do you and Nora have any similarities?
With Nora and her colt Arrow, I got to relive a bond I'd once shared with a horse of my own, a foal I'd also helped usher into the world. Nora uses natural horsemanship methods I learned when I was a trainer, and I really enjoyed getting to bring my experiences to life as Nora trained Arrow for harness racing at the fair.
My experience with horse anatomy, nutrition and care, as well as my own time spent as a trainer, helped me connect with Nora in a way I never had with any of my other characters.
What do you hope readers will gain from reading The Secrets of Emberwild?
The Secrets of Emberwild is, at its heart, a story of freedom. Nora seeks freedom in her life, but it is the freedom that comes to her heart and spirit that truly gives her what she needs. I hope readers will be able to see a little of themselves in Nora as she searches for purpose and discovers her true worth and value as defined by God.
This quote from the book sums up the theme for the story: "How like God to weave a pattern where men's evil and tragedy could somehow be twisted into something beautiful at the end."
Okay, time for some fun questions.
What's on your TBR list right now?
How much time do you have? I went to CFRR and filled an entire cart, so….
I'm currently reading Crystal Caudill's upcoming release Counterfeit Hope. I'm planning on reading the second book in Morgan L. Busse's Skyworld series (because book one was in that cart I mentioned LOL), the entire Age of Conquest series by Tamara Leigh, and the rest of the American Heiress series by Jen Turano next. Unless of course I get distracted by all of the other shiny new titles sitting on the shelf. Or I buy more. Which I'm highly likely to do.
I have the same problem. I can't say no to books! What's it like being the only female in the house?
Ha! There was a moment just yesterday when I had to shake my head and comment on the fact that there is far too much testosterone in my house. In truth, though, I'm quite happy being the only female. I tell my boys all the time that God blessed me with boys so I never had to pick up anything heavy again. Boys are great (even if they do tend to disregard the importance of a shower). All my guys treat me like a queen and jump to protect me from any threat – be that a snake, a puddle, or a too heavy bag of dog food.
Does your husband read your books? What does he think?
He's read several of them and still helps me whenever I get stuck on a plot point. He's currently listening to my Back Inn Time Series on audiobook while he drives around for work. I'm so blessed to have his support!
You're well known for being a southern author. What's the most southern thing you do?
Well bless your heart, I think this might be a tough one! Other than my overuse of the word y'all, my weakness for sweet tea—not to be confused with adding sugar to iced tea, mind you—my love of magnolias, and the fact that I can fry a "slap-yo-mamma" good catfish and cook up a batch of collard greens and a pot of peas and okra that will make your zipper burst?
I walk around barefoot most of the time. (I probably shouldn't admit that, should I?) I own about two dozen pairs of shoes, which includes a fair number of flip-flops, but I only wear them if I'm out of the house. Or yard.
First of all, this is the best answer ever. Second of all, I am always barefoot too! If you weren't an author, what would you be doing?
Can I pick being a food critic? I don't have any qualifications, but I'd totally jump at a chance to have a job traveling around the world, trying amazing food, and telling people how awesome it is.
You sure can, as long as I can be a tag-along!
Thank you so much for chatting with me today. I cannot wait for the world to get The Secrets of Emberwild in their hands!!