Welcome to the Blog Tour for Rising Danger by Jerusha Agen, hosted by JustRead Publicity Tours! This book has been on my radar for awhile (I've heard great things!) and I'm so excited to share it with you today. 🙂
About the Book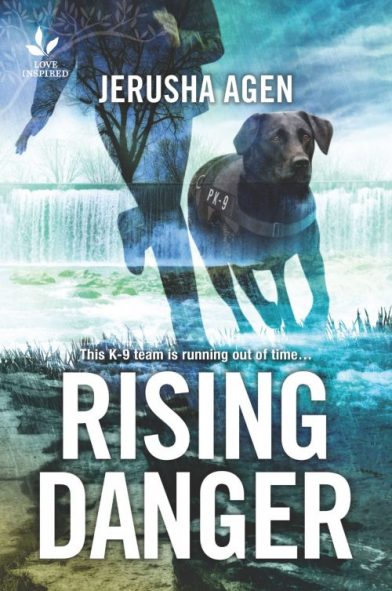 Rising Danger
Author
Jerusha Agen
Published by
Harlequin
on May 25, 2021
Genres:
Animals
,
Christian
,
Clean & Wholesome
,
Fiction
,
Romance
,
Suspense
Pages:
369
It's up to a K-9 handler and her canine partner to stop a bomber before it's too late.
Someone's planting explosives on dams in the Twin Cities, and Bristol Bachmann and her bomb-sniffing dog must move quickly to find them before everything ends up underwater. That means relying on the dams' supervisor—an ex-boyfriend Bristol never thought she'd see again. Hopefully Remington Jones has grown up from the rakish charmer she knew in her academy days. Because lives now depend entirely on them…
It's an environmental terrorist who wants the dams gone, and his bid to set the waters free has lethal consequences. When he sees Bristol and her K-9 working to stop him, he sets his sights on them. Can they evade him in a lethal game of cat and mouse and protect the cities from devastating destruction before the clock runs out?
Amazon
|
Barnes and Noble
|
Bookbub
|
ChristianBook.com
|
Goodreads
Excerpt
Chaos assaulted her as soon as she opened the door. For a moment, just one second,
Bristol Bachmann wanted to retreat into the Jeep and shut out the sounds of panic and
terror that threatened to conjure the same emotions in her.
Her hiking boots landed on the faded blacktop of the parking lot as she forced away
memories that clustered like a mob of shadows at the back of her mind. She shot a glance
at the Minnesota Falls Visitor Center as she moved to the back of her Jeep.
People poured out of the tourist complex, exiting the main entrance in semiorganized
fashion and then scattering, some yelling and screaming.
Flashing lights of police squads and fire rescue trucks painted a dizzying spectacle of
color against the backdrop of gray, cloudy sky.
She swiped her hands together, sweat dampening her palms as if this were her first
bomb threat. But symptoms like that had disappeared after her first day with the
Minneapolis Police Department's bomb squad over two years ago. She tried to ignore the
real reason for her unusual nerves as she opened the liftgate and reached inside to release
Toby from his crate.
The seventy-five-pound black Labrador retriever dropped out the back to the pavement of
the parking lot, wriggling as she checked his harness. She straightened the harness for his
comfort, the Phoenix K-9 Security and Detection Agency's logo resting on both his
shoulders, along with Explosives Detection identification and a warning: Do Not Pet. Toby
panted and pranced around her, more than ready to get to work.
She snatched the fanny pack that housed his necessities and the essential tennis ball
attached to a rope. She snapped the pack around her waist under her open windbreaker as
she and Toby hurried toward the brick-and-concrete visitor center, positioned above the
famous Minnesota Falls.
Crowds still rushed through the glass doors at the front of the building, their faces a study
in terror.
Her stomach clenched.
If there was a bomb here, as the anonymous threat had indicated, there were a lot of
people who could get hurt if it detonated. The $42 million complex constructed last year had
been built to make Minnesota Falls a tourist destination. But today, it seemed only to have
created an easy target for maximum casualties.
The sound of water rushing over the falls reached her ears, swishing the anxiety in her
stomach. Her gaze was pulled to the Mississippi River. She could see it clearly to the left of
the building.
The water was choppy, moving fast and disappearing behind the building where it
crashed over the Minnesota Falls Dam with audible power.
Her pulse ratcheted up. The water level looked higher than normal against the banks. They'd had so
much rain this spring.
If a bomb detonated here, now…
It wouldn't. Toby would find it.
About the Author
Jerusha Agen imagines danger around every corner, but knows God is there, too. So naturally, she writes romantic suspense infused with the hope of salvation in Jesus Christ. Jerusha loves to hang out with her big furry dogs and little furry cats, often while reading or watching movies. Find more of Jerusha's thrilling, fear-fighting stories at JerushaAgen.com.
CONNECT WITH JERUSHA: Website | Facebook | Twitter | Instagram
Giveaway
(1) winner will receive a print copy of Rising Danger by Jerusha Agen!
Full tour schedule linked below. Giveaway began at midnight May 26, 2021 and will last through 11:59 PM EST on June 2, 2021. Winner will be notified within 2 weeks of close of the giveaway and given 48 hours to respond or risk forfeiture of prize. US only. Void where prohibited by law or logistics.
Giveaway is subject to the policies found here.
Follow along at JustRead Tours for a full list of stops!
*NOTE: This post contains affiliate links.
Didn't the excerpt just make you want to go out and buy the book!? What part did you like the best?