Friends – today's featured book is full of emotion. Full of heartache, but also full of hope. Courage. And so much more. It's not for the faint of heart let me say, but it's powerful. It's not a light read by any stretch of the imagination, but it's well worth your time. I encourage you to read it when you're ready for a story that will rock your world. I promise you this one will do just that.
** Affiliate links used **
About the Book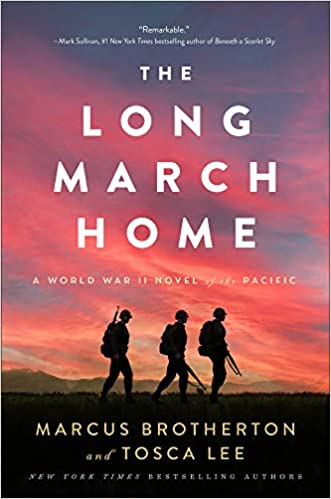 The Long March Home
Author
Marcus Brotherton
,
Tosca Lee
Published by
Baker Books
on May 2, 2023
Genres:
Fiction / Historical / 20th Century / World War II
,
Fiction / War & Military
Pages:
400
 "[A] tour de force."--Publishers Weekly starred review

"A great read."--Library Journal starred review

"A must-read literary triumph."--Booklist starred review

***

Jimmy Propfield joined the army for two reasons: to get out of Mobile, Alabama, with his best friends Hank and Billy and to forget his high school sweetheart, Claire.

Life in the Philippines seems like paradise--until the morning of December 8, 1941, when news comes from Manila: Imperial Japan has bombed Pearl Harbor. Within hours, the teenage friends are plunged into war as enemy warplanes attack Luzon, beginning a battle for control of the Pacific Theater that will culminate with a last stand on the Bataan Peninsula and end with the largest surrender of American troops in history.

What follows will become known as one of the worst atrocities in modern warfare: the Bataan Death March. With no hope of rescue, the three friends vow to make it back home together. But the ordeal is only the beginning of their nearly four-year fight to survive.

Inspired by true stories, The Long March Home is a gripping coming-of-age tale of friendship, sacrifice, and the power of unrelenting hope.

***

"Remarkable."--Mark Sullivan, #1 New York Times bestselling author of Beneath a Scarlet Sky

"Packed with tension."--Lisa Wingate, #1 New York Times bestselling author of Before We Were Yours

"Such real characters."--Rhys Bowen, New York Times bestselling author of The Venice Sketchbook

"Riveting."--Mark Greaney, #1 New York Times bestselling author of the Gray Man series

"Utterly compelling."--Susan Meissner, USA Today bestselling author of The Nature of Fragile Things

"Simply magnificent."--Don Bentley, New York Times bestselling author of Hostile Intent

"Dazzling."--Joseph Finder, New York Times bestselling author of House on Fire

"A tremendous story."--Andrew Kaplan, New York Times bestselling author of Blue Madagascar

"Beautifully and faultlessly told."--Steve Martini, New York Times bestselling author of Blood Flag
Amazon
|
Goodreads
|
Baker Book House
My Perspective
There are novels that will touch your heart, and then there are novels that will absolutely shatter your world. This is such a book. The Long March Home is so much more that I anticipated. It is gut wrenching in spots, tender in spots, hopeful in spots, and simply a stunning read. It took my breath away. Yes, there were difficult moments as I was reading. Honestly – it's a war novel, I expected it. But those who have a hard time reading about violence and it's after effects may want to take that into consideration. I would say it's highly graphic, but I have a pretty imaginative mind so it doesn't take much in the description area for me to be able to imagine. Anyways…. that's just a side note.
The bottom line is that if you enjoy history, if you enjoy stories set during and in the midst of a war, then this is the book for you. It almost has a memoir feel to it, which I rather enjoyed. I also really liked the two timelines that it went back and forth on. It made it so there was something to break up the roughness of the war, plus you really learned the backstory of the characters by "living" it.
There is a lot between the pages of this book – emotions, trials, blessings, and so much more. I think it would make a fantastic read for a book club – there are so many things you can discuss while reading through, and I wish I would have thought of messaging a friend to share my thoughts as I read. I cannot say enough good things about this story. Again, it's not for everyone, so be sure to do your homework. But if this type of book is right up your alley – well then get your copy as soon as possible, grab your tissues, and get ready for a roller coaster of emotions. It is well worth it.
I received a complimentary copy of this book. I was not required to write a favorable review. All thoughts and opinions are my own.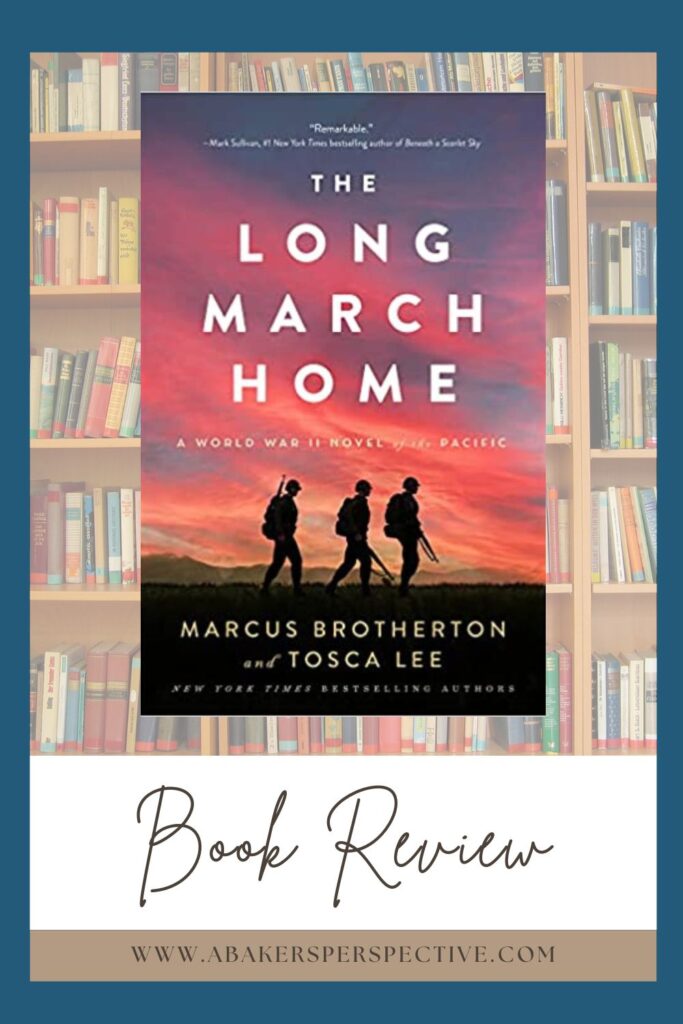 What interests you about this story?