If you are looking for a top read of 2023, look no further than The Words We Lost by Nicole Deese. Friends, this book is so good, so touching. You need to read it today!
** Affiliate links used **
About the Book
The Words We Lost (A Fog Harbor Romance)
Author
Nicole Deese
Published by
Baker Books
on April 11, 2023
Genres:
Fiction / Christian / Contemporary
,
Fiction / Christian / Romance / General
,
Fiction / Romance / Clean & Wholesome
Pages:
384
Three friends. Two broken promises. One missing manuscript.

As a senior acquisitions editor for Fog Harbor Books in San Francisco, Ingrid Erikson has rejected many a manuscript for lack of defined conflict and dramatic irony--two elements her current life possesses in spades. In the months following the death of her childhood best friend and international bestselling author Cecelia Campbell, Ingrid has not only lost her ability to escape into fiction due to a rare trauma response, but she's also desperate to find the closure she's convinced will come with Cecelia's missing final manuscript.

After Ingrid jeopardizes her career, she fears her future will remain irrevocably broken. But then Joel Campbell--the man who shattered her belief in happily-ever-afters--offers her a sealed envelope from his late cousin, Cecelia, asking Joel and to put their differences aside and retrieve a mysterious package in their coastal Washington hometown.

Honoring Cecelia's last request will challenge their convictions and test their loyalties, but through it all, will Ingrid and Joel be brave enough to uncover a twice-in-a-lifetime love?

"The Words We Lost is thought-provoking and tender, capturing the transformative beauty of surviving."--T.I. LOWE, bestselling author of Under the Magnolias

"A poignant, masterful exploration of the enduring power of friendship and love."--IRENE HANNON, author of the bestselling Hope Harbor series
Amazon
|
Goodreads
|
Baker Book House
My Perspective
Grief comes in so many different forms, and I'm so thankful that Deese took the time to share that in The Words We Lost. Yes this story is about romance, about friendship, even about the bookish world, but more importantly it's about loss and how you deal with that loss. From the poetic journey that Ingrid went on, to the difficult journey Wendy went on, and every where in between. Deese puts so much emotion in the pages of this book that you cannot help but be touched by every single word.
I loved, loved, loved all the tender moments between Joel and Ingrid. As much as they each had a separate journey to go on, they also had a journey to embark on together, and let me tell you – it was beautifully written. I enjoyed each text message, each meeting, basically everything about them. Joel was so patient with Ingrid. And Ingrid? Well she needed a little push now and then lol.
But as much as I enjoyed their romance thread, the true hero of the story is the way Deese provokes the thoughts of readers. The way she handles the world of grief – so tenderly, poetically, and realistically. The way she reminds readers that closure comes in many different forms, and often times it is not what we imagine it would be and there is absolutely nothing wrong with that. The way she shows that we have hope, even when we have suffered a great loss.
The Words We Lost is an emotional, tender, thought provoking read that will encourage and inspire readers. I highly recommend! I received a complimentary copy of this book. I was not required to write a favorable review. All thoughts and opinions are my own.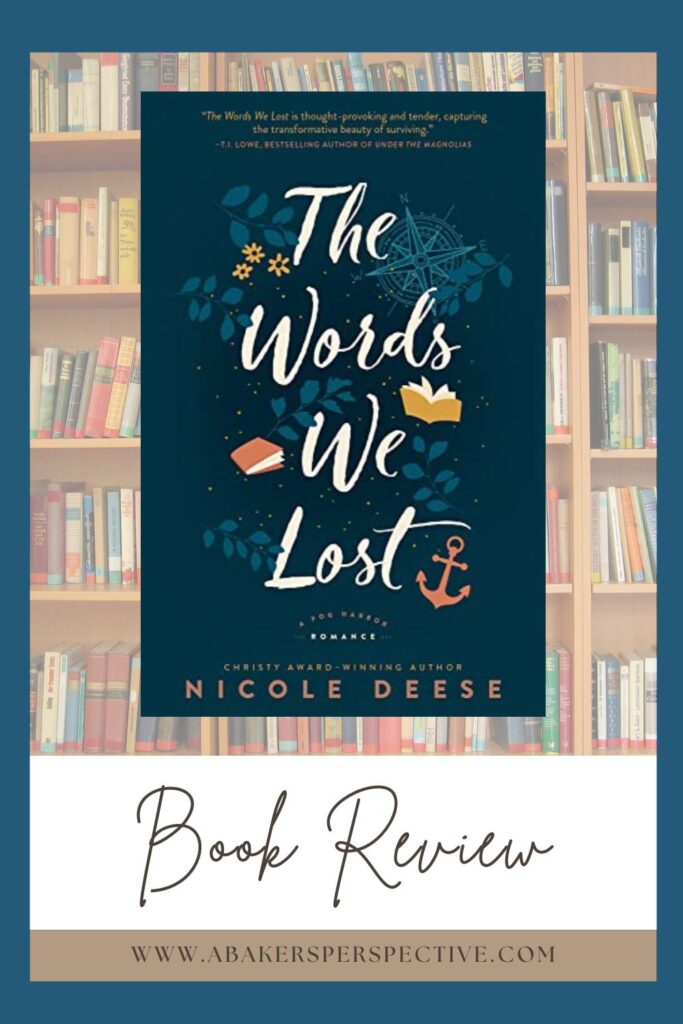 About the Author
Nicole Deese is a Christy and Carol Award-winning, bestselling author of hope-filled, humorous, and heartfelt contemporary romance novels. When she's not sorting out character arcs and story plots of her own, she can usually be found listening to an audiobook and multitasking at least four different chores at once. She's a hoarder of sparkling water, a lover of long walks and even longer talks with friends, and a seeker of fun and adventure at all times. She lives in small-town, Idaho with her happily-ever-after hubby, two freakishly tall teenage sons, and one princess daughter with the heart of a warrior.
Find her online at www.nicoledeese.com.
What interests you about this story?