Hello my reader friends. Welcome to Top Ten Tuesday, hosted by That Artsy Reader Girl. Today's topic is is a freebie!! I thought it would be fun to talk about my bookish pet peeves – something different and I don't think I've tackled this in the past.
If you do any of these things…..well I'm not saying it'll ruin our friendship. But I might look at you differently.
Just kidding.
Okay, in no particular order…
FOLDING THE PAGES!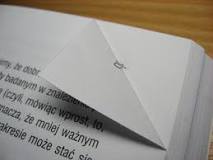 I know this is perhaps one of the most controversial topics – dog ear versus bookmarks. People, books have feelings too! Okay, just kidding, but really. I try to take such good care of my books, I don't want to see a bunch of crease lines!!
READING THE LAST PAGE FIRST
Trust me, I am always tempted to just look at the last page, or the last chapter. But I feel like that takes the fun out of actually reading the book. I mean, let's face it – romances novels you know the couple will end up together. Suspense novels – you usually are able to figure out the whodunnit. Why spoil the fun?
MESSY BOOKSHELF
I just can't. Bookshelves are meant to showcase books, not just hold them. My bookshelves aren't perfect by any stretch of the imagination, mostly because I have more books than space, BUT they do not look like this!
SPOILER ALERT
Friends, if you are reading a book that I haven't read, PLEASE DON'T TELL ME THE ENDING!!! I love talking about books as much as the next person, but I always ask if the other person has read the book before I start talking about it. Why? I don't want to give anything away!
THE STICKERS!
This doesn't happen as often as it used to, but have you ever bought a book from a store, and there is a price sticker on it that you just cannot get off? Oh it bugs me to no end! I just want to tell the people to wrap the book first and then put a sticker on it. Not hard!
Okay, rant over lol.
ALL THE TALKING
It happens ALL THE TIME. I'll be reading – at home or at work. And as soon as I get about a sentence in, the other person in the room starts talking. Then apologizes for talking because they know I'm reading. Then a few minutes later they start talking again, and apologize again. People – I just want to read!!! And for those of you shaking your head in disgust of me (hehe) also know that the prior half hour before I started reading, you could hear crickets chirping.
HOLDING A BOOK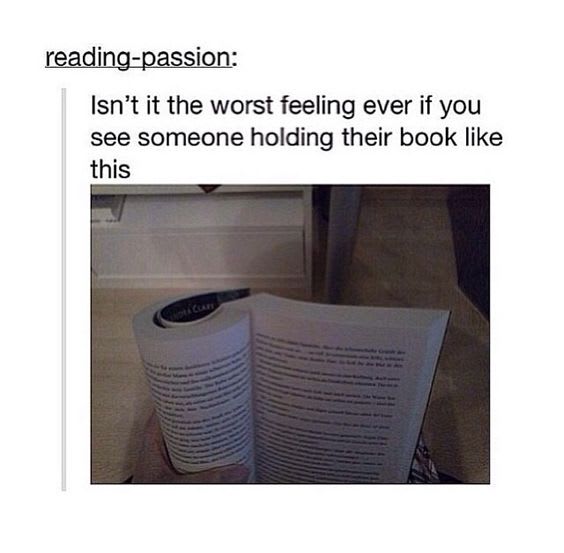 This bothers me as much as the dog ear. I can always tell if a book has been held like that too – and my OCD will immediately put that book at the bottom of a large stack of books and try to flatten it out!
POOR EDITING
I'm a proofreader, so it really gets under my skin when books are published and the editing is horrible. I do not mind a few misspellings or misuses – hey everyone looks over something, it happens. But when it's basically the whole book, I just cannot stand it. It makes me want to write to the publisher and ask how it slipped through the cracks.
A FORCED ROMANCE
I love me a good romance story, but the characters need to get together naturally. And yes, I realize that sometimes (especially novella writing) it needs to happen quickly. But I think authors can still be proactive about making it believable, and not just forcing a scene. Believe me – you can totally tell. Things are lined up a bit too perfectly, or the characters hate each other and then professing their love on the very next page. Nope, doesn't cut it for this reader.
And last but certainly not least……
PEOPLE WHO DON'T LIKE TO READ
I mean why are we even talking? How are we friends? Reading is like breathing to me. I just don't get people who don't feel the same way 🙂
What about you? Do you feel the same way? Do you have any different pet peeves? I'd love to hear about it in the comments!