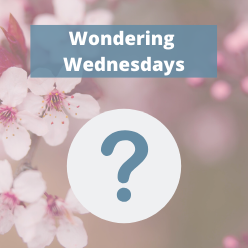 Welcome to Wondering Wednesdays, a weekly post to learn more about me and other bloggers 🙂
Today's questions is – What made you start blogging?
The obvious answer would be, I wanted to share about books. Right!? And while that is absolutely true, it was actually a little more than that. I have been reading my whole life, and I am quick to talk to others about the books I am reading. I tend to treat characters like they are real people. Anyone else have that problem?
Social media gives you so many amazing opportunities to connect with authors. Years ago, the only Christian Fiction I ever read was Amish stories and Karen Kingsbury stories. My husband bought me some books by Karen one year for Christmas, just because he thought I might like them, and that was the beginning of my love for Christian Fiction. We have a ton of Amish in our area, which made me pick up an Amish Fiction book one day, just to see what it was all about. Then I started devouring them.
This led to following authors on social media. One author in particular was Amy Clipston. She happened to be looking for a team of people to help promote her books in the summer of 2015. One of the questions on the sign up form was if we had a blog. I didn't at the time, but it kind of sparked something in me. First, I was probably scared that if I didn't have a blog then I wouldn't get picked lol. But more importantly, I thought it would be a great avenue to share my love of books. And boy was I ever right.
This blog has really been such a blessing to me. I may not have many followers, BUT I have made so many friends, met so many authors, and really opened up my eyes to so many different genres that I couldn't see myself reading 5 years ago. If you asked me back then what I liked to read, it would just be Amish and Contemporary. Now my answer is – as long as it's Christian Fiction I don't care! I just want to read and see the amazing ways that authors can share God's love, good stories, and swoony heroes 🙂
So there you have it! I'd love to have you join me every week. To find out more information on this weekly post, please visit Wondering Wednesdays. If you're a blogger, please connect using the link below!