Hi friends! I am so excited to share this book with you today. I think it might be my favorite of the year, and I don't say that lightly. Now, full disclosure – there are some things in this book that some may not want to read about (such as alcohol and abuse). But I think the author keeps it true to life, and doesn't write is as something positive, it is simply part of the characters. I like reading true to life stories, and so they didn't bother me at all. I do, however, understand that they are not for everyone and wanted to be sure to let you know 🙂
Now….onto this amazing book. It is unlike anything I've ever read, and I find that is hard to come by. I read it pretty quick, like as quick as I could having a full time job, plus a part time job, and well life lol. My point is – it was that good! If you don't mind the hard topics of life in print, then I highly recommend reading this.
** affiliate links used **
About the Book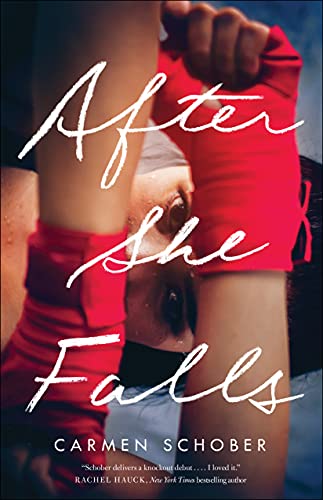 After She Falls
Author
Carmen Schober
Published by
Baker Books
on November 2, 2021
Genres:
Fiction / Christian / Contemporary
,
Fiction / Christian / Romance / General
,
Fiction / Romance / Contemporary
Pages:
352
"Schober delivers a knockout debut. After She Falls is refreshingly unique and well-written. While the journey of faith and healing is set against the backdrop of the MMA, Schober's story world and characterization are vivid and evocative."--RACHEL HAUCK, New York Times bestselling author

She's always had that fire in her. She just needs to find it again.

Strong-willed Adri Rivera nearly achieved her goal of being a professional mixed martial artist, but then she fell in love with a man who knocked all the fight out of her. When their abusive, tumultuous relationship finally comes to a head, Adri flees with their young daughter to her small hometown in the mountains of Pennsylvania. There, she must face the people she left behind and put her broken life back together again.

A hardened Max Lyons can't believe Adri is back in town after abruptly cutting him and everyone else off years ago. Despite the distance that grew between them, he feels compelled to help her regain her independence and offers her a job at his gym. But regaining each other's trust is another matter, made even more complicated by the lingering spark between them. As Adri dares to pursue her dream again, she trains for a big tournament with Max's help, but they'll both have to confront their own doubts in order to rise victorious.

"Anyone who has watched a sports movie knows that the underdog will prevail, romance readers know that love wins, and Christian fiction readers know that God is bigger than any problem; Schober's debut novel is unique for being blend of the three."--LIBRARY JOURNAL
Amazon
|
ChristianBook.com
My Perspective
Wow.
I know it seems like such a simple word, but really that's what I've come up with. This book was just wow. It blew me away. I mean I was on the edge of my seat, heart pounding after only the first chapter. It was a difficult situation and for sure doesn't give you the warm fuzzies. BUT it's so well written. You feel like you're right there with the character. And it's like this for the entire book. Honestly I couldn't put it down.
Schober tackles a rough topic, as well as brings a profession that we don't see very often in Christian Fiction. There's a couple of messages this gave me. First, who people are on the outside is not necessarily who are they are or how they feel on the inside. Our leading lady Adri is a prime example. She is this beautiful, strong willed mixed martial arts professional – on the outside. But when she is in her abusive relationship, she's not so tough. And I don't mean that she wasn't strong per say, I mean like she didn't fight back for a long time. She took it. She probably could have hurt the guy abusing her, and yet she allowed him to keep the abuse going. Doesn't seem like something a professional mixed martial artist would do, right? Take someone's crap? And yet she does. She has vulnerable moments, insecurities, and she's human after all. I guess my point is that someone can seem like such a tough guy on the outside, but you don't really know what's going on deep down on the inside. Adri had so much going on inside, she just needed some help.
The other message – there are Christian's everywhere. Now I know that probable sounds weird to you, but it's really what I walked away thinking. I think there are some parts of the world that we just don't associate with "Christians" if you will, and honestly, I fall prey to those who probably don't imagine a Christian being in the fighting world. But they are, and in so many other areas that I wouldn't normally think of, and I thank Schober for reminding me of that. We are so quick to judge and make assumptions about people, that we don't stop for a moment and really put thought or effort into who they really are.
I know these two points don't really speak of Schober's writing style, but they were just important lessons I wanted to share. So you can see the impact this book had on me. Not for one second did I ever feel like I was reading a debut novel. No, it felt more like someone who had been writing for decades, had an important message to share, and could easily weave together the most well written and beautiful story I have read this year. Even our hero Max made an imprint on my heart. He had his own growing to do, and the fact that he wasn't a Christian honestly worked great. Why? Because it's real life. Sometimes we're friends with people who aren't Christians. Sometimes we even fall for them. And do they always turn to Christ? No. But it's amazing to see the growth in those who do.
Schober is an author to watch for. I'll be stalking her social media until her next book comes out. Her faith themes are amazing, her characters are well developed, and her story lines are intriguing. I cannot wait to see what's next! I received a complimentary copy of this book. I was not required to write a favorable review. All thoughts and opinions are my own.