Welcome to the Blog + Review Tour for Can't Buy Me Love by Andrea Christenson presented by Susan May Warren, hosted by JustRead Publicity Tours!
About The Book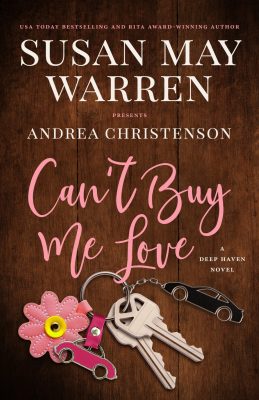 Can't Buy Me Love
Author
Susan May Warren
,
Andrea Christenson
Published by
Sunrise Publishing
on March 16, 2021
Genres:
Fiction
,
Christian
,
Romance
,
Clean & Wholesome
,
Small Town & Rural
,
Contemporary
,
Billionaires
Pages:
270
She's not looking for love…
Housekeeper-slash-entrepreneur Ella Bradley prides herself on being ready for anything. After all, with a father who died—and lied to her—and a stepmom and stepsister who despise her, she has no one else to depend on. But on the biggest night of her life, she's unprepared to be trapped in an elevator with the man of her dreams.
He doesn't mean to lie…
Wealthy prince-to-a-fortune Adrian Vassos wants nothing more than to shed his reputation as a party boy and prove that he is a savvy businessman. Even, a gentleman. But when he's trapped with a woman who knows his reputation but not his face, he gives into the temptation to be someone else—and lies.
A disastrous beginning leads to a fresh start…
When serendipity brings them together again—this time to work off community service—can their combined sentences spark a new ending? Maybe…if Adrian's lies don't find him out. Again.
The magic of Deep Haven enchants in this modern-day Cinderella story.
Goodreads | Amazon | Barnes & Noble | Book Depository | IndieBound | BookBub
Books in Series:
My Perspective
I loved this book from the very beginning. I giggled over the meet cute, knowing what was really happening, and who both people on that elevator actually were. It was exactly how I wanted it to go! It's not always easy for an author to draw me in on the billionaire love story, but this story had me hook, line and sinker. It was believable. Not some fairy tale that you know will not ever happen in real life. Christenson made me believe this could very well happen.
Here's another thing I loved – Ella's character. She had such passion for her cause, and one I honestly didn't know much about. But it makes me see things in a new perspective – such as chemicals in our world today and the effect they have on people. I'm sure it's no mistake on the timing I read this book either, as my daughter is currently researching how to have our home have less toxic products. Now obviously the author had no idea the timing of this, or even who my daughter and I are, but God did. And I believe He would have the author put these words to paper so that we can see from yet another source that we are headed in the right direction.
Contemporary romance fans will be delighted with book two in the Deep Haven novels. There is plenty of sigh worthy moments, tension (my favorite), and wonderful character growth. I'm excited to see what's next in this series and by this author! Highly recommend readers adding their to their TBR piles!
I received a complimentary copy of this book. I was not required to write a favorable review. All thoughts and opinions are my own.
About the Authors
Susan May Warren is the USA Today best-selling novelist of 80 books. With more than 1.5 million books in print, she is beloved by reviewers and readers around the world. Visit Susan at www.susanmaywarren.com.
CONNECT WITH SUSAN:
Website
|
Facebook
|
Instagram
|
Twitter
Andrea Christenson lives in a Minneapolis, MN suburb with her husband and two daughters. When she is not busy homeschooling her girls, she loves to read anything she can get her hands on. She believes that a great loaf of artistic bread can turn a meal into a masterpiece. Andrea's prayer is to write stories revealing God's love.
CONNECT WITH ANDREA:
Website
|
Facebook
|
Instagram
|
Twitter
Merging the creative energies of best-selling authors Susan May Warren and Lindsay Harrel,
Sunrise Publishing
is the matchmaker for established authors who want to build on their current success for future growth and aspiring authors looking to break out, build an audience, and hone their writing skills.
CONNECT WITH SUNRISE:
Website
|
Facebook
|
Instagram
|
Twitter
|
admin@sunrisepublishing.com
Giveaway
(1) winner will receive a $15 Amazon gift card + 3 Can't Buy Me Love ebooks (one ebook for the winner and two to give to friends)!
Full tour schedule linked below. Giveaway began at midnight March 16, 2021 and will last through 11:59 PM EST on March 23, 2021. Winner will be notified within 2 weeks of close of the giveaway and given 48 hours to respond or risk forfeiture of prize. US only. Void where prohibited by law or logistics.
Giveaway is subject to the policies found here.
---
Follow along at JustRead Tours for a full list of stops!
*NOTE: This post contains affiliate links.