Oh friends, it's time for a chat with my favorite friend Jen Turano. Her books are just amazing, and if you haven't read any of them, well what are you waiting for!? Her latest release, To Disguise the Truth is next on my TBR list and I cannot wait to dive into it. I already know I'll be giggling like a school girl. I'm delighted to have Jen here today. And she has graciously offered to giveaway a copy of her book, so be sure to check out the giveaway!!
*** affiliate links used ***
About the Book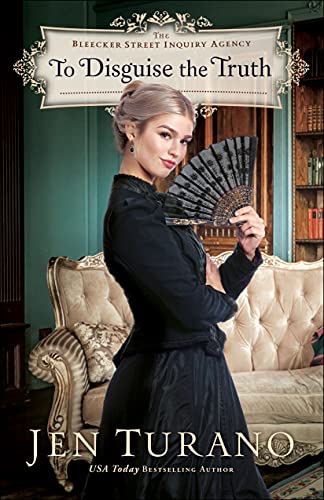 To Disguise the Truth (The Bleecker Street Inquiry Agency)
Author
Jen Turano
Published by
Baker Books
on January 18, 2022
Genres:
Fiction / Christian / Historical
,
Fiction / Christian / Romance / Historical
,
Fiction / Romance / Historical / American
Pages:
352
When a man arrives at the Bleecker Street Inquiry Agency, anxious to hire them to find a missing heiress, Eunice Holbrooke realizes her past has finally caught up with her . . . and that she may no longer be able to hide under the disguise that has kept her safe for so long.

Arthur Livingston's goal in life is to make his mark on the world as a mining industrialist, but after the man who could help him achieve his goal is murdered, Arthur feels compelled to seek justice for the family--but he's left with more questions than answers after the eccentric Bleecker Street Inquiry Agency refuses to take on his case.

Desperate to conceal her real identity and avoid the irritatingly handsome Arthur, Eunice takes on a different case that requires her to go deep undercover and entangles her in one troublesome situation after another. When other secrets come to light, Eunice has no choice but to confront her past, hopeful that it will set her free but knowing it could very well place her life--and the lives of those she loves--in jeopardy.
Amazon
|
Baker Book House
Interview with Jen
Welcome back!!! I'm so glad to have you back on the blog. Let's get right to it. I know that whenever I pick up one of your books, I'm going to be rolling on the floor with laughter. Does adding humor in your stories come naturally? Where do you draw that humor from?
For as long as I can remember, I've had what can only be considered a very weird sense of humor, which has come in handy over the years because I seem to experience the most unusual circumstances. Take for instance this one – there I was, in college, strolling across this field that was a shortcut to get to a class. And, okay, it was rather blustery, and as I strolled, I noticed all these newspapers flying around. The strange thought crossed my mind that it looked like one of those comedic scenes about to happen in a movie – you know, where the character suddenly finds herself with a newspaper molded around her from the wind. Well, before I knew it, yep, one of those newspapers blew right into me, covering my face and obscuring my view and…it was next to impossible to get the pesky thing off of me. It also didn't help that I started cackling like a crazy woman, that state only increasing when this poor guy tried to come to my assistance. Stuff like that happens to me all the time, but I never get mortified, only amused because weird circumstances are simply a part of my life. Those circumstances are incredibly handy with my writing because all I have to do to craft an outlandish scene is take a trip down memory lane. I also watch people, and some may say I'm rather stalkerish in this regard, but I look at it as merely inspiration for my job.
It's only one question in and I'm already laughing! You always have such unique character names in your books. What's been your favorite name so far?
My very favorite name so far is Miss Temperance Flowerdew. I took a ton grief about that one because a lot of people thought I simply made the name up. Nope, not the case at all. A friend of mine from high school was digging into her ancestry and found Temperance Flowerdew in her family tree. Well, as soon as she mentioned her extraordinary find, I knew I just had to have her. This same friend also gave me Mercy Miner, who is also in that very same book.
Besides shaking down friends and family for names, which I insist have to be historically accurate, even if some of them seem completely far-fetched, I scour through old obituaries and moldy research books, jotting down any name that immediately makes me smile. Now, there's no saying that once I start writing a book that the characters are going to accept the names I've chosen for them, but that's all part of the fun – arguing with characters no one can see but me. (And, yes, I know, that makes me sound as if I should be on some manner of medication, but trust me, talking to invisible people when you're a writer just goes with the territory.)
Ha! I admit, I thought perhaps that name was made up too. Those who follow you on social media have seen your beautiful new she-shed. Has being out there changed your writing routine at all? Does Al know to stay out 😉
I would have to say that, yes, writing in a shed has definitely changed my writing routine. For one, I never expected that I'd have to shovel the backyard to get to work if it snows, and then, well, even though I have heat and air, it occasionally takes an hour to heat or cool off the shed, during which time I'm either sweltering or freezing to death as I try to knock off a chapter. All in all, though, having a place where I can be by myself has more perks than disadvantages. I have to be completely alone to write effectively, so high-tailing it across the yard is a small price to pay to find peace and quiet. As for Al? Yep, he knows he's only allowed to visit if I extend him an invitation. In all honesty, I'm fairly certain he enjoys me being out in the shed as well because he doesn't have to listen to me wandering around the house, talking to myself.
I think my husband wishes I had a she-shed! The Gilded Age is clearly your jam, and may I say you are fantastic at writing in that time period. But have you ever considered writing in a different era, or even genre?
I actually have written in other genres. When I first started writing, I dove into middle grade fantasy. Those didn't amount to anything, but then I moved on to Young Adult. Again, no luck finding an agent. After that I went contemporary. Same thing, agents seemed to like my writing voice, but my writing craft just wasn't perfected enough to be considered publishing-worthy. I then decided to try historical, and that's where I found my sweet spot. I did have a contemporary book published, "Finding Margo." Unfortunately, things went wrong with the publishing house I sold the series to, so it was pulled from stores and if you ever see it in a library…hmmm… It ends on a cliff hanger and at this point, I don't see myself ever finishing the series.
Going forward, I do have an idea for another contemporary. I simply need to find time in my rather hectic schedule to write it. We'll see if I find that time this year.
I'll have to check in with you later in the year to see if you've written it or not! You've visited tons of blogs over the years, and share lots with us on social media. But what's one thing readers still don't know about you?
Hmmmm…tricky question. There are so many things I could mention but…one thing. Okay – confession time – I do not like bacon.
Jen, I'm not sure we can be friends anymore. Who does't like bacon!? The last time we talked you told me about a funny (well maybe more disturbing) story about one of your walks – a man who decided he just wanted to take his pants off lol. What have the adventures in walking brought you lately?
You know, the trail has been relatively quiet of late, probably because I'm out there before six and it's still dark. The most interesting adventure Remee, my neurotic Cattle Dog, and I have had in the past month is when she decided she wanted to herd an eight-point mule deer. Unfortunately, that deer didn't want to be herded, and I was forced to pick my fifty-pound pooch up and hightail it down the trail with this monstrous deer trailing behind us for a good mile. I was not amused.
You may not have been amused, but I bet those who saw it (or imagine it like I'm doing right now) were! Can you share what's in the pipeline? We need more books to look forward to! 
I am currently working on a new series – The Matchmakers. I turned in the first book, currently untitled, and have now started the second book. That first book won't release until 2023, though, because I was in serious danger of suffering from a nervous breakdown due to Covid and daunting deadlines, so for this series, instead of releasing two books a year, I'm going to release one every nine months. That schedule may change for the next series I write, but for now, I'm kind of digging the more relaxed pace. I think the first book is rather amusing, and Adelaide Duveen is the heroine in the second book and, wow, she's a bit of a hot mess, exactly how I like my heroines. So many dastardly situations I can throw her into.
Oh my goodness I cannot wait!!! Thank you so much for chatting with me today Jen!
Thanks for having me, Jessica! Always delightful.
Giveaway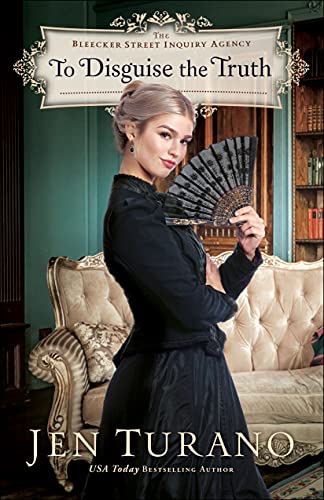 One lucky commenter is going win an autographed copy of To Disguise the Truth! (US residents only)
To enter, comment below with your favorite part of this interview! Please include your email address so I can contact you if you win!!
Giveaway ends Wednseday January 26th at midnight.