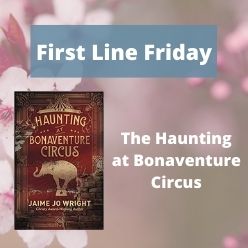 Welcome to First Line Friday, hosted by Hoarding Books!
Today I'm featuring the first line of a book I just finished. I ADORE books by Jaime Jo Wright, and this was no exception. Hope to get my review posted this weekend. Make sure you stop by and check it out!
Bluff River, Wisconsin
August 1928
Life was not unlike the wisp of fog that curled around the base of a grave marker, softly caressing the marble before dissolving into the violet shadows of the night.
And now it's your turn! Grab the book nearest to you and share the first line in the comments. Don't forget to check out what everyone else is reading at Hoarding Books!