Friends, I cannot say enough good things about the Timeless series by Gabrielle Meyer. It is simply stunning. Honestly – get your hands on it. Make sure to start with book one, otherwise you will be lost. Well maybe not lost necessarily, but you'll definitely understand it more if you read book one first. It's so worth it. I promise.
** Affiliate links used **
About the Book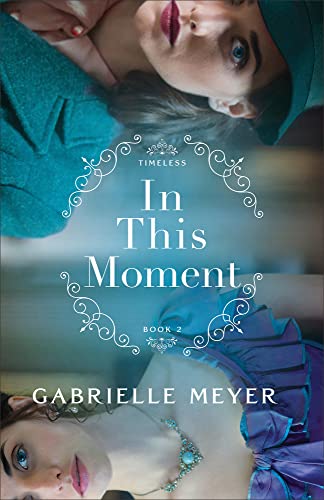 In This Moment
Author
Gabrielle Meyer
Published by
Baker Publishing Group
on May 2, 2023
Genres:
Fiction / Christian / Historical
,
Fiction / Christian / Romance / Historical
,
Fiction / Romance / Time Travel
Pages:
400
Maggie inherited a gift from her time-crossing parents that allows her to live three separate lives in 1861, 1941, and 2001. Each night, she goes to sleep in one time period and wakes up in another. Until she turns twenty-one, when she will have to forfeit two of those lives--and everyone she knows in them--forever.

In 1861, Maggie is the daughter of a senator at the outbreak of the Civil War, navigating a capital full of Southern spies and wounded soldiers. In 1941, she is a navy nurse, grappling with her knowledge of the future when she joins a hospital ship going to Pearl Harbor. And in 2001, she's a brilliant young medical student, fulfilling her dream of becoming a surgeon.

While Maggie has sworn off romance until she makes her final choice, an intriguing man tugs at her heart in each era, only complicating the impossible decision she must make, which looms ever closer. With so much on the line, how can Maggie choose just one life to keep and the rest to lose?

Gabrielle Meyer's writing captivates with . . .

"A page-turning journey through three riveting, interwoven historical timelines."--MIMI MATTHEWS, USA Today bestselling author

"Wonderful settings that brim with ethical dilemmas, fabulous twists, and an engaging heroine."--ELIZABETH CAMDEN, Christy and RITA Award-winning author

"A time-traveling adventure with timeless appeal."--JOCELYN GREEN, Christy Award-winning author
Amazon
|
Goodreads
|
Baker Book House
My Perspective
Oh I have been waiting for book two in this series since I read the very last page of book one. First of all, the concept of the whole plot line is so intriguing to me. Waking up in different time zones with no time lapsing when you return to a previous time zone? I mean I am exhausted just typing that, and yet Meyer effortlessly jumps between not two, but three timelines. And never once was I confused, or did it feel choppy, or anything. It was a smooth transition each time, both for me and the character.
If I'm honest, I don't have a favorite time period that Maggie is placed in either. I love them all, and that's probably because Meyer really grabs your attention, puts so much detail into each and every time period, makes you feel as if you belong in the story. It's simply captivating. My heart was with Maggie the entire time, wondering how she was going to choose. And when she finally did, well I guess I kind of knew with her, and it was the absolute perfect choice.
Along the way there are several characters who made an impact on my heart, in each and every time period. I can't really say much without spoiling some things, so instead I'll just encourage you to read for yourself. There are so many fun moments, perfectly blended with more somber and growing type moments. I think you'll find that you're marking all sorts of good quotes and life lessons as you're making your way through the pages. The faith themes are beautifully woven into the storyline as well.
Here's the bottom line folks – you need to read this book. The series in fact. You will be swept off your feet. Yes, it's that good. I cannot wait to see what comes next in this series. I know it won't happen fast enough for my liking lol, but I know that good things come to those who wait. And so…. I'll wait.
I received a complimentary copy of this book. I was not required to write a favorable review. All thoughts and opinions are my own.
About the Author
Gabrielle Meyer lives in central Minnesota on the banks of the upper Mississippi River with her husband and four children. As an employee of the Minnesota Historical Society, she fell in love with the rich history of her state and enjoys writing fictional stories inspired by real people, places, and events. You can learn more about Gabrielle and her books at www.gabriellemeyer.com.
Find Gabrielle on Facebook at www.Facebook.com/AuthorGabrielleMeyer, Pinterest at www.Pinterest.com/gabriellemeyer/, Twitter at www.twitter.com/MeyerGabrielle, Goodreads, and her Website at www.gabriellemeyer.com.
What interests you about this story?