Welcome to the Blog + Review Tour for Pearl's Promise by Edwina Kiernan, hosted by JustRead Publicity Tours! I was immediately drawn to the beautiful cover of this book. Have you ever had that happen – you want to read a book simply based on the cover? Keep reading for more about this book, my thoughts, and enter the giveaway!

About the Book
Pearl's Promise
on May 1, 2021
Genres:
Historical
,
Romance
A duty-bound heir. A dejected spinster.

An encounter that could ruin both their families' demands for their futures...

Horrified to see the man she had always dreamed of marrying saying his vows to someone else, Pearl Acton's devastation only seems to confirm one of her deepest fears - that she'll remain unseen and alone, never mattering to anyone.

And when her family falls on hard times and seeks to marry her off to a wealthy suitor as soon as possible, her other deepest fear seems inevitable - being trapped in a loveless marriage, just like her parents.

Until an encounter with a quiet and soulful heir, Nicholas Dalton, sparks a fragile hope that perhaps Pearl might save her family's fortune and marry for love.
But when circumstances on both sides of their families take drastic turns, the promise of happiness seems irrevocably shattered.

As Pearl and Nicholas each strive to uphold their family duties, they soon discover that things aren't quite what they seem. But is it too late to escape their crushing obligations and forge a new path - together?
Amazon
|
Bookbub
|
ChristianBook.com
Other Book in the Series
My Perspective
Pearl's Promise is the classic story of how a young lady's parents want her to marry a certain gentleman for money, and yet her heart belongs somewhere else. I enjoy reading these because it's always interesting to me how the young lady will eventually fight for herself, as well as seeing how the man she loves will try to gain honor in the eyes of her parents. I will say this is book two in the series, and I probably should have started with book one. I was looking for a teeny bit more of a back story in the very beginning, and my guess is that it was in book one. My fault however, not the author. I am just recommending you read book one first!
Kiernan did a great job in keeping with the time period. I could easily picture myself at the balls, dancing next to Pearl and her different partners. And I thought she wrote Nicholas's character really well. It was hard not to love him. He fought for what was right, he basically went behind his father's back to help a tenant because he knew he should. He's that hero all the women instantly fawn over. That being said, I do think that perhaps the attraction between him and Pearl came a little too strong for my taste. I would have preferred a more subtle growth between them, perhaps friends to in love. Or even just a little more interaction before falling completely head over heels. But again, this is simply my preference when reading.
I think the stand out in this story was actually Pearl's relationship with Mrs. Maxwell. What a fabulous secondary character! I think she really gave Pearl what she was missing at home – compassion, love, and help. Yes she was aware of what the ultimate goal was for Pearl, but she also saw inside Pearl's heart. I enjoyed how the author wrote their friendship and relationship.
I think Regency fans will enjoy this story and probably read it pretty quickly, as I did. I do, once again, recommend reading book one first however. I will be going back and reading it at some point! I received a complimentary copy of this book. I was not required to write a favorable review. All thoughts and opinions are my own.
About the Author
Edwina Kiernan is a Christian writer, and author of the well-received Inspirational Regency romance novel, Ruby's Redemption.
An enthusiast of classic novels and history, Edwina combines her faith, imagination, and research in hope-infused tales set in times past. Her latest novel is the second in the Inspirational Regency romance series, Gems of Grace.
A lifelong word admirer, with Welsh and Irish heritage, she started writing stories early in childhood. She still loves to learn, taking courses from places like Oxford University and the Beau Monde, for both fun and further education.
When she's not writing, Edwina loves spending time with her dashing husband and lively little son, reading and studying the Bible, getting lost in a captivating novel, and drinking more types of tea than most people realize even exist.
For free gifts, updates, and lots of classic and historical fiction goodness, join her mailing list at EdwinaKiernan.com.
CONNECT WITH EDWINA: Website | Facebook | Instagram
Giveaway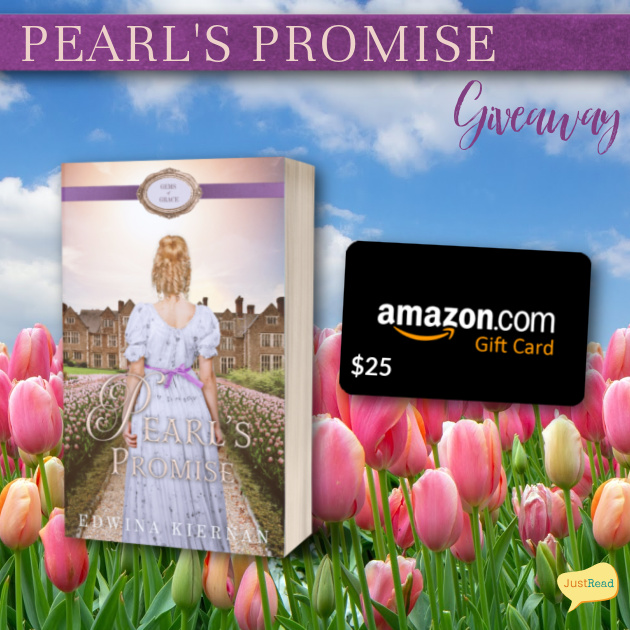 (1) winner will receive a print copy of Pearl's Promise and a $25 Amazon gift card!
Be sure to check out each stop on the tour for more chances to win. Full tour schedule linked below. Giveaway began at midnight June 22, 2021 and lasts through 11:59 PM EST on June 29, 2021. Winner will be notified within 2 weeks of close of the giveaway and given 48 hours to respond or risk forfeiture of prize. US only. Void where prohibited by law or logistics.
Giveaway is subject to the policies found here.
Follow along at JustRead Tours for a full list of stops!
*NOTE: This post contains affiliate links.
Do you like reading Regency novels?