Welcome to the Blog + Review Tour for Set in Stone by David James Warren, hosted by JustRead Publicity Tours! I have a confession to make. I have had this series on my kindle for awhile. If you've read my last couple of posts (Life updates 2. and life updates), you know that I've had a lot I've been dealing with the past several months. But I finally managed to start reading, and once I did, I couldn't stop. In fact, I wish I had the next two books because I'm not sure I can wait until release day to read them!!!
** affiliate links used **
About the Book
Set in Stone
Author
David James Warren
Published by
Tristone Media
on August 10, 2021
Genres:
Fiction / Mystery & Detective / Police Procedural
,
Fiction / Romance / Action & Adventure
,
Fiction / Romance / Suspense
,
Fiction / Romance / Time Travel
,
Fiction / Science Fiction / Action & Adventure
,
Fiction / Science Fiction / Crime & Mystery
,
Fiction / Science Fiction / Time Travel
,
Fiction / Thrillers / Crime
,
Fiction / Thrillers / Suspense
Pages:
205
Trapped in time, he'll have to use the past to fix the present.

Thirty-eight women. Dead. All the in the past. All because Detective Rembrandt Stone played with fate, and somewhere in time unleashed a serial killer. He can't undo their deaths, not anymore, but the serial killer is still at large, twenty-four years later, and now it's personal. Especially when the evidence points to the last person on anyone's radar: Rembrandt himself.

Now he'll have to use the clues from his pasts to track down the killer in the present.

But the killer is onto him and puts the one person Rembrandt loves in his cross hairs. Now, Rembrandt must outwit time to save the people he loves.

Because time is playing for keeps.

The fourth installment of the True Lies of Rembrandt Stone will have you holding your breath and leave you gasping for more.

The continuing adventures of Rembrandt Stone from the creative minds of James L. Rubart, Susan May Warren and newcomer David Curtis Warren, writing as DAVID JAMES WARREN.
Amazon
|
Barnes and Noble
|
Bookbub
|
Goodreads
|
The Book Depository
Books in the Series:
CONNECT WITH REMBRANDT STONE: Website | Instagram
My Perspective
Oh my word the excitement and suspense continues. This series is unlike anything I have ever read, and each novel just makes it more interesting, more intriguing, and makes me wish it would never end. Even though I must find out how it's all going to come together. Must isn't even the right word. I have to find out. Like now.
But seriously, the writing is so full of action, suspense, and plot twists to keep you on your toes. It is non stop and I am a-okay with that. I'm not kidding when I say you won't be able to put this book down. Heck, if you haven't read the series you'll binge it. I did. All four books I read within a few days. And then immediately asked myself why I hadn't read them sooner.
I can't imagine having three authors help write a book is an easy task. But somehow these three amazing authors have come together and penned a story in such a fantastic fashion. You have a flawed hero. Yes, he has good intentions, but just doesn't fully understand the consequences of his actions. But he start to understand as the story progresses. His love for his wife is so sweet, and it really shines in this installment of the series.
And wow that ending. Once again I am left with my jaw hanging down, not knowing what to think, and biting my nails until I can get the next book in my hands. The creativity in the pages of this book is amazing – from the watch, to the descriptive narratives, to the little things that just grab you by the head and don't let you go. All while giving us a good reminder – we may think we want to change the past, but in reality if we were to do that, we might not be living the same life we are today. Is it worth the risk?
I highly recommend this book. Correction, this series. You do need to read them in order to understand what's going on. It's worth it. I promise! Just make sure to carve out a large chunk of time to read it in. You will not want to put it down for a second!
I received a complimentary copy of this book. I was not required to write a favorable review. All thoughts and opinions are my own.
About the Authors
James L. Rubart is 28 years old, but lives trapped inside an older man's body. He's the best-selling, Christy Hall of Fame author of ten novels and loves to send readers on mind-bending journeys they'll remember months after they finish one of his stories. He's dad to the two most outstanding sons on the planet and lives with his amazing wife on a small lake in eastern Washington. More at http://jameslrubart.com/
CONNECT WITH JAMES: Website | Facebook | Instagram | Twitter
Susan May Warren is the USA Today bestselling, Christy and RITA award–winning author of more than eighty novels whose compelling plots and unforgettable characters have won acclaim with readers and reviewers alike. The mother of four grown children, and married to her real-life hero for over 30 years, she loves traveling and telling stories about life, adventure, and faith.
For exciting updates on her new releases, previous books, and more, visit her website at www.susanmaywarren.com.
CONNECT WITH SUSAN: Website | Facebook | Instagram | Twitter
David Curtis Warren is making his literary debut in these novels, and he's never been more excited. He looks forward to creating more riveting stories with Susie and Jim, as well as on his own. He's grateful for his co-writers, family, and faith, buoying him during the pandemic of 2020, and this writing and publishing process.
CONNECT WITH DAVID: Instagram
Giveaway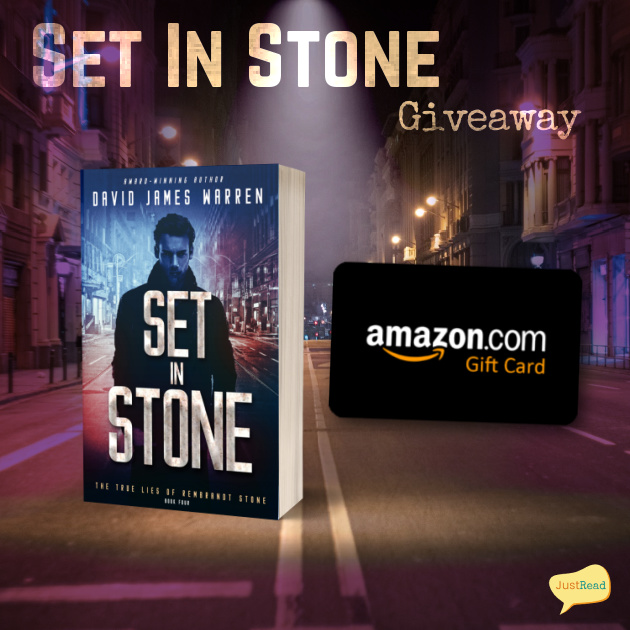 (1) winner will receive a print copy of Set in Stone and a $15 Amazon gift card!
Full tour schedule linked below. Giveaway began at midnight August 10, 2021 and will last through 11:59 PM EST on August 17, 2021. Winner will be notified within 2 weeks of close of the giveaway and given 48 hours to respond or risk forfeiture of prize. US only. Void where prohibited by law or logistics.
Giveaway is subject to the policies found here.
Follow along at JustRead Tours for a full list of stops!