Hello reader friends! Welcome to my Spring Into Reading Event! We're in the last part of the event, and I have to be honest, I'm kind of sad. This week is it! I've had to much fun learning about new books, new authors, and growing my TBR list. Haven't you!? Thank you all for joining me on this fun journey. I'm already planning one for next year ?
Today Wendy May Andrews is giving us the back story on her latest series, The Bequest Series! Um, full disclosure – I have now put this series on my TBR list! For those of you, like me, who haven't read the series, we've got a giveaway for book one, Inheriting Trouble!
ABOUT THE BOOK
Miss Sarah Upton, a well-qualified companion, has one goal: to open a school for girls. But first she must earn the rest of the money she needs by chaperoning a young lady's debut into Society – to say nothing of the generous bonus she has been promised if she can get her charge well-married quickly.
Heath Felton, the Marquis of Westbrook, has no intention of allowing his young friend to become misaligned with Miss Upton's charge. When his interference nearly leads to the young woman's ruin, Heath is forced to prolong his time spent with the two women.
Sarah couldn't possibly be attracted to the man ruining all her plans, could she? When her employer's greed forces her into close proximity with Westbrook she has to fight both the marquis' efforts to control Lavinia's future and her powerful attraction to the handsome nobleman.
This is book three in the series but can be read as a stand alone. No cliffhangers. A sweet/clean happily ever after.
GUEST POST
Inspiration behind the Bequest Series:
My husband took me to England three years ago for a research trip for my books. He was so generous about it. He usually hates to travel by an itinerary but this trip was VERY planned. As I was planning I kept asking him if he was okay with it. His response: "it's your trip, I'm just your chauffeur." (swoon)
I write Sweet Historical Romance and more than half of my twenty books are set in Regency era England so this trip was amazing! We had already been to London twice but I felt that my characters needed to get out of the city so on this trip we went to Brighton, Southampton, Bristol, Bath, the Cotswolds, and Oxford. I loved every second of it!! We toured Wilton House and Blenheim Palace. Both were amazing in their own ways.
Wilton was particularly inspiring. Blenheim was so grand that it would be a very rare character who could live there. But Wilton, while beautiful and grand in its own way, was quite "normal" for an aristocratic family. My three book Bequest Series and the upcoming five book Sherton Sisters series were inspired by our visit to Wilton.
In the village which used to belong to Wilton house, there's a now redundant church with historical plaques all over the walls. One of them explains that in the year 1775 a gentleman left his money to the town and stipulated how it was to be spent. One thousand pounds was to be put aside to provide a ten pound dowry to any impoverished young women of the parish. This was a fascinating tidbit of historical information. I started imagining how this ten pounds might change a young woman's life. So we spent the rest of the trip trying to research whether or not ten pounds would be life changing in 1805 (when my series is set) because right now it can only buy you a serving of fish and chips.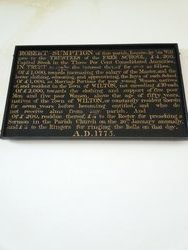 Blenheim Palace had a plaque of the servants' wages around 1805. A middle of the house servant – not highest paid but not lowest either – could have been paid ten pounds for their year's labor. Then we discovered the Wiltshire and Swindon History Center. An amazing establishment with extensive records that they will allow you to look at. You can take pictures of everything for a small fee. They have old maps, newspapers, census records, anything you can imagine. We were specifically looking for a map of the town of Marlborough from 1805 which is how we came to find this research facility. The workers were happy to help. They brought handwritten receipts for us to look at. One set was for the rents paid to the Marquis of Aylesbury for the use of one of his estates by the Mayor of Marlborough. Annual rent was fourteen pounds for the entire estate!
So my heroine's ten pounds, while not a massive fortune, was definitely life changing if she was in straightened circumstances. Most definitely a generous dowry for an impoverished young woman.
ABOUT THE AUTHOR
I've been writing pretty much since I learned to read when I was five years old. Those early efforts were basically only something a mother could love 🙂 Good thing mine is my biggest fan. I put writing aside after I left school and stuck with reading. I am an avid reader. I love words. I will read anything, even the cereal box, signs, posters, etc. But my true love is novels.
About ten years ago my husband dared me to write a book instead of always reading them. I didn't think I'd be able to do it, but to my surprise I love writing. Those early efforts eventually became my first published book – Tempting the Earl (published by Avalon Books in 2010). There were some ups and downs in my publishing efforts. It has been a thrilling adventure as I learned to navigate the world of publishing.
I believe firmly that everyone deserves a happily ever after. I want my readers to be able to escape from the everyday for a little while and feel upbeat and refreshed when they get to the end of my books.
When not reading or writing, I can be found traipsing around my neighborhood admiring the dogs and greenery or travelling the world with my favorite companion.
Stay in touch:
Website/sign up for my newsletter:  www.wendymayandrews.com
Facebook: Group: www.facebook.com/groups/WMASweetRomanceReadersAndFriends
Page: www.facebook.com/WendyMayAndrews
Instagram:  www.instagram.com/WendyMayAndrews
Twitter:  www.twitter.com/WendyMayAndrews
GIVEAWAY
a Rafflecopter giveaway
If you could go on a research trip, where would you go?