Welcome to the Celebrate Lit blog tour for The Cryptographer's Dilemma by Johnnie Alexander! I am so excited to share this book with you today, but before I do, I need to recommend listening to the Christian Historical Fiction Talk Podcast by Liz Tolsma! She happened to interview Johnnie in her August 11 episode and I actually listened to it prior to reading the book. In this episode Johnnie shares the back story for The Cryptographer's Dilemma and I found it absolutely fascinating. I had wanted to read the book anyways, but this made me want to read it as soon as the episode was over. I highly recommend listening either before or after reading the book. There's no spoilers in the interview really, so I think it's safe to read before. For me, it just made me reflect back on the interview as I was reading to remember what Johnnie had said about the real story compared to what I was reading, which enhanced my reading experience.
Okay, onto the tour. Make sure you read Johnnie's guest post, and enter the fabulous giveaway. And again, highly recommend grabbing your copy and reading today!
** affiliate links used **
About the Book
The Cryptographer's Dilemma
Author
Johnnie Alexander
Published by
Barbour Publishing
on August 1, 2021
Genres:
Fiction / Christian / Historical
,
Fiction / Christian / Romance / General
,
Mystery & Detective
Pages:
256
A Code Developer Uncovers a Japanese Spy Ring

Full of intrigue, adventure, and romance, this new series celebrates the unsung heroes—the heroines of WWII.

FBI cryptographer Eloise Marshall is grieving the death of her brother, who died during the attack on Pearl Harbor, when she is assigned to investigate a seemingly innocent letter about dolls. Agent Phillip Clayton is ready to enlist and head oversees when asked to work one more FBI job. A case of coded defense coordinates related to dolls should be easy, but not so when the Japanese Consulate gets involved, hearts get entangled, and Phillip goes missing. Can Eloise risk loving and losing again?

Amazon
|
Barnes and Noble
|
Bookbub
|
ChristianBook.com
My Perspective
I absolutely love it when authors take little known pieces of history, and make them come alive in a book. I found the plot to be simply fascinating. First of all, I enjoy reading about women in history who made something for themselves in a "man's world" so to speak. Eloise was so talented, and yet couldn't even share with her mother what she was doing. But I think the secretness of it made it that much more exciting. I can't imagine the amount of research Alexander had to do in order to portray this character. To see her reading the letters, trying to pick up any clues, figure out the code, and put it all together. It was brilliant.
Then you have our a hurting hero, upset because he cannot support his country the way he wants to because of his disability. I don't think I've read a color blind character before, and could certainly sympathize with how upset he was. I would have liked to see more of this in the story line honestly. But I also understand that there are only so many words and author can put in a book! I will say the best lesson I learned from Phillip is that God has a plan for our lives, and it doesn't always match what our plans are. Phillip wanted to fight in the war so desperately, and I think it took him awhile to truly understand that he was fighting in the war, just in a different way. And in the end it ended up being the better way, of course, because he met Eloise. But it took him some time to get there, just like it does us.
The Cryptographer's Dilemma is a gem of a book that I am so happy I decided to read. It has mystery, excitement, a little romance, travel, and and interesting bits of history along the way. Historical fiction fans will enjoy reading about Eloise and Phillip and their journey to find the letter writer. I highly recommend! I was given a complimentary copy of this book. I was not required to write a favorable review. All thoughts and opinions are my own.
About the Author
Johnnie Alexander creates characters you want to meet and imagines stories you won't forget in a variety of genres. An award-winning, best-selling novelist, she serves on the executive boards of Serious Writer, Inc. and the Mid-South Christian Writers Conference, co-hosts Writers Chat, and interviews other inspirational authors for Novelists Unwind. Johnnie lives in Oklahoma with Griff, her happy-go-lucky collie, and Rugby, her raccoon-treeing papillon. Connect with her at www.johnnie-alexander.com and other social media sites.
Guest Post by Johnnie
American Traitor in WWII
Not all secret messages involve substitution codes where random letters and numbers replace the original letters and numbers. Velvalee Dickinson, a doll collector who owned a doll shop on Madison Avenue in New York City, used jargon code to pass along information to the Japanese about the U.S. ships that had been damaged at Pearl Harbor.
Here's an excerpt from one of the letters (as originally written):
The only new dolls I have are THREE LOVELY IRISH dolls. One of these three dolls is an old Fisherman with a Net over his back—another is an old woman with wood on her back and the third is a little boy….I can only think of our sick boy these days. You wrote me that you had sent a letter to Mr. Shaw, well I want to see MR. SHAW he distroyed Your letter, you know he has been Ill. His car was damaged but is being repaired now. I saw a few of his family about. They all say Mr. Shaw will be back to work soon.
Velvalee, who the FBI nicknamed The Doll Woman, wrote this letter on her Underwood typewriter. She used the return address and forged the signature of one of her regular customers, Mary Wallace of Springfield, Ohio. Then Velvalee mailed the letter to an address in Buenos Aires, Argentina.
Unknown to Velvalee, the Japanese had abandoned the Buenos Aires address as a drop point. The letter was marked "return to sender." When Mrs. Wallace received it, she turned it in to the Post Office Director in Springfield who passed it along to the FBI.
Cryptographers determined that the letter was written in jargon code. To the casual reader, the letter is about dolls. But the intended recipient would have understood it's about much more than that.
In this example, only one of five letters given to the FBI between February and August of 1942,
cryptographers decoded the message as follows:
Old Fisherman with a Net over his back ~ refers to an aircraft carrier which has anti-torpedo nettings on its sides.
Old woman with wood on her back ~ refers to an older battleship, one made of wood.
A little boy plus our sick boy ~ a damaged ship.
Cryptographers believed that the words Mr. Shaw and Your were purposely capitalized and that the word distroyed was purposely misspelled to draw attention to them. Mr. Shaw referred to the USS Shaw, a destroyer (distroy + your = destroyer).
The remainder of the letter says Mr. Shaw is ill but "will be back to work soon."
The ship was in dry dock at Pearl Harbor when the Japanese attacked. As the heroine in The Cryptographer's Dilemma explains, "About two weeks before this letter was written, it [the USS Shaw] was undergoing repairs in San Francisco."
In the novel, Eloise Marshall is a naval cryptographer who teams up with FBI agent Phillip Clayton, to find the person responsible for forging the signatures on the letters. Their search takes them from Washington, DC to the Springfield, Ohio, to the west coast and back again. On their journey, Eloise will confront an unexpected specter from her past and Phillip will risk his life to save hers.
Blog Stops
Life of Literature, August 25
Where Faith and Books Meet, August 25
Musings of a Sassy Bookish Mama, August 25
Debbie's Dusty Deliberations, August 26
Reflections From my Bookshelves, August 26
Library Lady's Kid Lit, August 27
Bizwings Blog, August 27
Daysong Reflections, August 27
Texas Book-aholic, August 28
A Baker's Perspective, August 28
Inklings and notions, August 29
Happily Managing a Household of Boys, August 29
For Him and My Family, August 30
Simple Harvest Reads, August 30 (Guest Review from Donna Cline)
Older & Smarter?, August 31
Mypreciousbitsandmusings, August 31
Aryn the Libraryan ?, September 1
Rebecca Tews, September 1
Babbling Becky L's Book Impressions, September 2
deb's Book Review, September 2
Locks, Hooks and Books, September 3
Blossoms and Blessings, September 3
Mary Hake, September 3
Connie's History Classroom, September 4
A Good Book and Cup of Tea, September 4
Sodbusterliving, September 4
A Modern Day Fairy Tale, September 5
Labor Not in Vain, September 5
Ashley's Clean Book Reviews, September 6
Moments, September 6
Splashes of Joy, September 6
Truth and Grace Homeschool Academy, September 7
Pause for Tales, September 7
Giveaway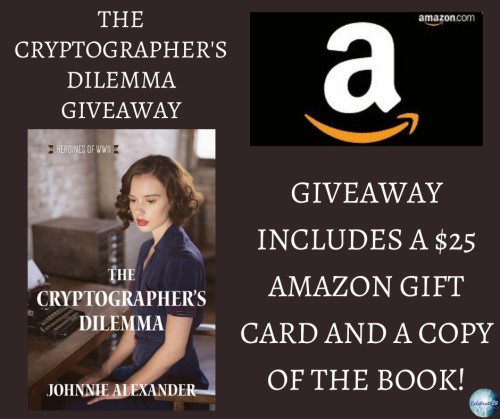 To celebrate her tour, Johnnie is giving away the grand prize package of a $25 Amazon gift card and a copy of the book!!
Be sure to comment on the blog stops for nine extra entries into the giveaway! Click the link below to enter.
https://promosimple.com/ps/1161a/the-cryptographer-s-dilemma-celebration-tour-giveaway
What do you find most fascinating about this story!?