Welcome to the Celebrate Lit Blog Tour for Vivid by the talented Ashley Bustamante!!! I am excited to share this book with you. I was actually on the launch team, and have been waiting to share my review with you because I knew I would have Ashley on the blog today answering a few questions. Listen, fantasy might not be your thing. I get it. I used to think that. I was WRONG, and I think you might be too. The more fantasy I'm reading from these uh-mazing authors like Ashley, the more I am loving them!!! So promise me that you'll put that notion aside and try it out!
** Affiliate links used **
About the Book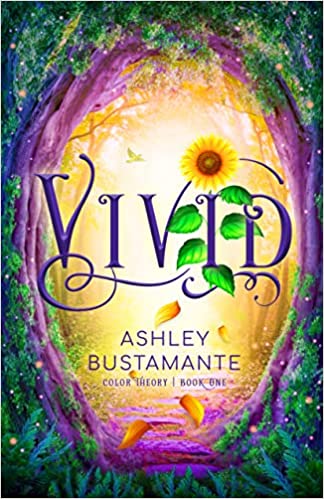 Vivid
Author
Ashley Bustamante
Published by
Enclave
on May 17, 2022
Genres:
Fantasy
,
Fiction / Christian / Fantasy
,
Young Adult Fiction
DANGER LURKS BEHIND EVERY COLOR

Ava Locke dives into the mysteries of forbidden Yellow magic and discovers a dark path filled with secrets and injustice.

When Ava Locke was five years old, she began a journey to join the Benefactors—the leaders of the magical continent of Magus. Twelve years later, she unwittingly started down the road to betray them.

On Magus where colors fuel magical abilities, yellow is banned in an effort to protect people from its mind-controlling capabilities. When a rogue Yellow magic-user named Elm escapes imprisonment Ava becomes innocently fascinated with his story. Once this mysterious Elm shows up at her school, Ava pushes her interest to the next level by helping him evade the Benefactors. Ava grows increasingly conflicted as her intrigue leads her down a dark road of secrets about her world. As she learns more about Yellow magic's potential to control its victims, Ava now must question whether her rash decisions are all her own or if someone else is pulling the strings.
Amazon
|
Barnes and Noble
|
Bookbub
|
ChristianBook.com
|
Goodreads
My Perspective
Welcome to the magical and colorful world created by the talented Ashley Bustamante. Vivid surpassed any expectations I had about it, and then some! I was easily swept away into Ava's world, what the colors meant, how yellow played into it all, and what the mysterious Elm was really all about. Vivid isn't just the title of the book, it describes Bustamante's writing – so very vivid. I could see it all play out in my head so clearly as I read. I could see the colors come to life, the characters talk and walk about. I could see the forrest, Elm, and all the magical elements of the story. Oh I never wanted to leave.
I think perhaps the best thing Bustamante does is show both sides of the story. You assume you know the good from the bad, but she weaves in this tiny little puzzle pieces and all of a sudden you are guessing what you thought all along. And it all brings you to this amazingly satisfactory ending. Sorry no spoilers here, but you will be wowed. When I got to the end, I actually sighed out loud, and kind of held my kindle there for a moment thinking about it. I didn't want the characters to leave. Thankfully the good thing about books is that you can reread them and the characters don't have to leave!
If you're looking for a fun, whimsical, magical story, look no further. I highly recommend you pick up your copy of Vivid today and get reading! I received a complimentary copy of this book. I was not required to write a favorable review. All thoughts and opinions are my own.
A Chat with Ashley!
Hi Ashley and welcome to the blog!! I am so excited to have you here today. Let's dive in. Can you describe your writing process?
It's all over the place. I would say I'm largely a pantser, but sometimes I have a vague sense of where I want things to go. I'm definitely not the person who sits down and makes a detailed outline before writing the story. Even in school when we had an outlining assignment I always found it easier to write the whole paper first and make an outline to turn in after. I would say most of the time my stories start with a single scene and then I build the world around that. Random moments develop and then I think about how to connect the dots as I go.
Oh I couldn't do outlines either in school. I just wrote the papers lol. Do you have a fun research story to share?
I have an old WIP (that I plan to revisit after the Color Theory series concludes!) that's set in a medieval-ish fantasy world. There's a scene where a character is in a really fancy bathroom, and for some reason I got caught up on the detail of soap. I spent a long time researching whether they had fancy soap in medieval times, what it would have been made with, how it would smell, etc. and then at one point I just stopped and was like… this world has magic rocks and pixies and self-lighting lanterns and I'm worried about soap? I'm a fantasy author! I do what I want!
Haha. The rabbit trails we go on! What's your go-to bible verse during times of difficulty?
Isiah 54:10; I just love that reminder: "My kindness shall not depart from thee." God is good and even when things are hard we have so much to be grateful for. And just knowing that God is at the helm and has our best interests at heart is such a comfort.
I love that. So true!! If you could have dinner with any fictional character, who would it be and why?
It's so hard to choose! But maybe Jane Eyre. I admire her strength of character so much. She never loses sight of who she is even when others try to make her feel less-than. I don't always have that kind of confidence, but it's something I'm working toward.

Oh that's a great choice. I may try to join you! What are you working on next?
I'm currently working on book two of the Color Theory series. I don't want to spoil anything from either book, but book two is going to explore a lot of the internal conflict of these characters now that their worlds have shifted. There's a lot to navigate.
Oh man, I cannot wait for the next book!!! Thank you for chatting with me today!
About the Author
Ashley Bustamante has created stories from the moment she could scribble and staple sheets of paper together. She simply cannot recall a time when writing was not a force in her life. When not running through lines of dialogue in her mind, she enjoys taking photographs and spending time with her husband, three children, and any furry, feathered, or scaly creature she can find. She currently works at Arizona State University.
Blog Tour
Library Lady's kid Lit, May 31
A Baker's Perspective, June 1 (Author Interview)
Debbie's Dusty Deliberations, June 1
Texas Book-aholic, June 2
Inklings and notions, June 3
deb's Book Review, June 4
For Him and My Family, June 5
Locks, Hooks and Books, June 6
Truth and Grace Homeschool Academy, June 7
Tell Tale Book Reviews, June 8
Adventures of a Travelers Wife, June 9 (Author Interview)
Ashley's Clean Book Reviews, June 9
Because I said so — and other adventures in Parenting, June 10
Blogging With Carol, June 11
Labor Not in Vain, June 12
Inside the Wong Mind, June 13
Giveaway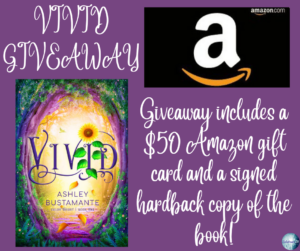 To celebrate her tour, Ashley is giving away the grand prize package of a $50 Amazon gift card and a signed hardback copy of the book!!
Be sure to comment on the blog stops for nine extra entries into the giveaway! Click the link below to enter.
https://promosimple.com/ps/1e382/vivid-celebration-tour-giveaway