It's so hard to say goodbye to a series, especially when you know the author poured their heart and soul into it. The Snap Agency series by Natalie Walters has been so fun to read! And the most recent release Blind Trust was both thrilling and sad to read at the same time. You don't want to leave the characters. But….if I know Natalie, I know she's already got something cooking for her next series and I am here for it!
About the Book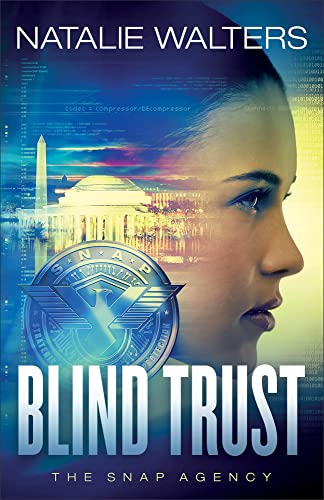 Blind Trust (The SNAP Agency Book #3)
Author
Natalie Walters
Published by
Baker Books
on April 11, 2023
Genres:
Fiction / Christian / Romance / General
,
Fiction / Christian / Suspense
,
Fiction / Romance / Suspense
Pages:
320
Lyla Fox knows she has a reputation at the SNAP Agency for impulsivity, but when she receives a threatening letter from a man she helped put in prison, she can't stop herself from going all in to find out why he's coming after her. Unfortunately, she's going to need the help of the one person who questions her reckless choices more than anyone else.

Explosives and weapons specialist Nicolás Garcia agrees to help Lyla in order to keep her safe, but her recklessness continues to be a major concern, especially when her investigation into a conspiracy puts a target on her back. Dealing with bombs is dangerous. Working with Lyla is proving to be just as treacherous--to both the mission and his heart.

Natalie Walters closes out her SNAP Agency series with a bang with this nail-biting story of a deadly government conspiracy, an unlikely couple, and an ending that will leave you breathless.
Amazon
|
Bookbub
|
Goodreads
My Perspective
Man I have been waiting for this story for a long time, but it was well (and I mean WELL) worth the wait. Slow burn romance? Check. Danger? Check. Action? Check. Characters to love? Double check. Laughter? Check. What more could you ask for in a book?
The good thing about reading a series is that the characters become like your family. The bad things about reading a series is that the characters become like your family. I don't want to say goodbye to these sweet (and sometimes hysterical) characters. But I'm so glad that we get Lyla and Garcia's story before it ended.
I think what's special about their story is how slow burning it is. I mean all the readers knew before they knew. The other characters knew before they knew. But not once does Walters force them together, romantically at least. And you know what? That is fine. It's real life. I cannot tell you the number of couples that often don't even realize they are good for each other, while the rest of the world just kind of chuckles as they watch them figure it out. I think that's why I enjoyed their story so much. I reminded me of some couples I know. Well, minus all the danger and action!
Walters is also good at keeping the pace of the story steady when needed, and fast when needed. And even in the midst of danger, she always seems to put in a little something to make the reader smile, and kind of step back from the ledge a bit. It could be a gesture, thought or a comment from one of the team members that just has you burst out laughing. Maybe not in every single scene, but in a few of them. That's why I like reading her books so much. They are truly joyful to read.
While I am so sorry to see this series go, I can only hope that means there is another amazing series in the works, and I am HERE FOR IT! I highly recommend reading the SNAP Agency Series. You can thank me later. 🙂
I received a complimentary copy for this book. I was not required to write a favorable review. All thoughts and opinions are my own.
About the Author
My world revolves around GIJOE and our three adult (or almost adult) children who keep my life anything but predictable. Our boots hit the ground wherever the Army sends us but home is when we're all together no matter the zipcode. My passion is writing stories where adventure meets love and share my belief that life rooted in purpose is a story worth telling.
What interests you about this story?