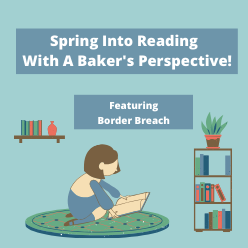 Hello reader friends! Welcome to my Spring Into Reading Event! It's May, and the event is still happening! So, with no end in sight, let the party continue. Just kidding – this will come to an end soon. But for now, I'm going to feature a new release (or will be released) book for you to add to your TBR everyday. There will be guest posts, giveaways, book excerpts, and more! So make sure you come back daily and see what book is in the spotlight next – I've only got a handful of posts left! And if you've missed any, be sure to click on the "Spring Into Reading" tab and look at the other posts!
Today's feature is from the Love Inspired Suspense line, which I love for the record. Border Breach is the debut novel from author Darlene Turner! YAY! I love reading debut novels, don't you!? Not only is Darlene giving us a peek behind the scenes, she's also sharing an excerpt. Now that, my friends, is a win-win!
ABOUT THE BOOK
When drugs are smuggled across the border
it's their duty to stop the culprits…at any cost.
Forming a joint task force, Canada border officer Kaylin Poirier and police constable Hudson Steeves have one objective: take down a drug-smuggling ring trying to sell a new lethal product. But when the smugglers come after Kaylin and Hudson, this mission becomes more than just a job. Can they live long enough to solve the case?
Purchase:
Amazon.ca
Amazon.com
Chapters/Indigo
Barnes & Noble
GUEST POST
Behind the Scenes of Border Breach
By Darlene L. Turner
I'm excited to be on this Spring Into Reading Celebration with A Baker's Perspective. Thank you for having me. My debut novel, Border Breach, released early April from Love Inspired Suspense (LIS) – a division of Harlequin. I thought it would be fun to take you behind the scenes on how it came about.
My agent suggested I write something for LIS, so I started brainstorming ideas on what story I would like to create. I've always been intrigued by Canadian law enforcement. I wanted a strong female character who knew how to take care of herself and the Canada Border Services Agency caught my attention. I googled popular items being smuggled and saw that there was a bust for the doda drug in one of our provinces and it sparked the idea of a modified deadly form of it. I knew I had to partner Kaylin with a forceful police officer but one with teddy bear qualities. Hudson Steeves fit that bill. I also gave them a past where they worked on a case together that didn't go well, so they both would be a bit apprehensive about teaming up again.
I began researching law enforcement, the border agency, and various other aspects for my book. After this I came up with the basic storyline and started "interviewing" my characters by doing sketches on them. This is my favorite part of the process! It's fun to create their likes, dislikes, past secrets, etc. Next, it was time to start with chapter 1. After a bit of time, I was able to type "the end" on my story.
This was when Deadly Bouquet (my original title) was born. I sent it to my agent and months later, I received that call. You know, the words every author dreams about hearing. "You're going to be published." Needless to say, I did a happy dance! Yes!
If you would like to see a sneak peek of Border Breach, click on this link: https://bit.ly/39nArla
Thanks for being with me on this fun tour! I would like to give away a copy of Breach Breach to one reader (open to the US and Canada only). If this winner is Canadian, you are required to answer a skill-testing question.
ABOUT THE AUTHOR
Darlene L. Turner is an award-winning author and lives with her husband, Jeff in Ontario, Canada. Her love of suspense began when she read her first Nancy Drew book. She's turned that passion into her writing and believes readers will be captured by her plots, inspired by her strong characters, and moved by her inspirational message. You can connect with Darlene at www.darlenelturner.com where there's suspense beyond borders.
Darlene's social media:
Facebook / Twitter / LinkedIn / BookBub / Pinterest / Instagram
GIVEAWAY
a Rafflecopter giveaway
What do you like about reading romantic suspense novels?